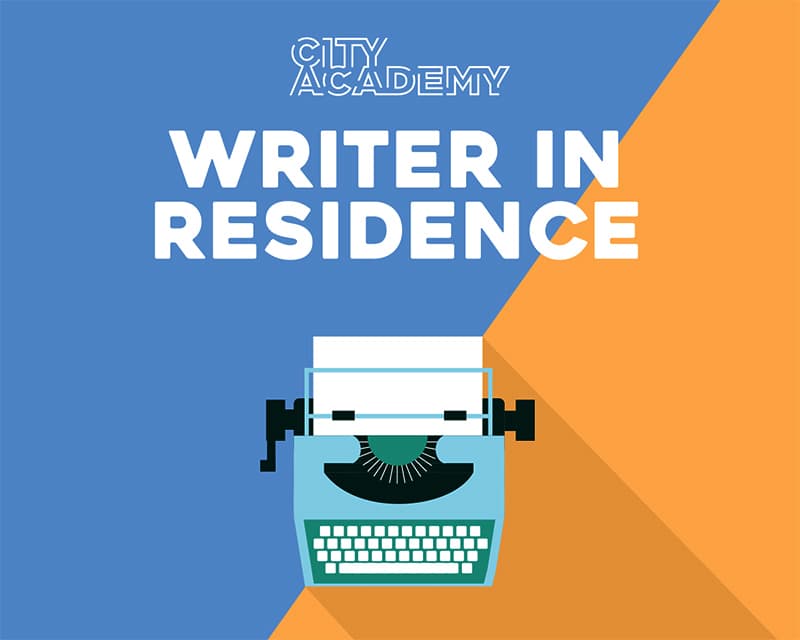 Calling all City Academy students! We are delighted to announce that our Writers in Residence programme is now open for applications for July – December 2019. As part of our commitment to supporting early stage writers, City Academy offer time and space to write with dedicated support from Head of Writing Jon Barton, within a growing community of fellow writers.
"Our ongoing support for writers continues with two further residencies available to writers known to City Academy. Our aim is to enable those artists to complete something longer: perhaps a manuscript for a novel or a screenplay. This is an opportunity for City Academy to open its doors to exceptional writers that can benefit from further support"

 - Jon Barton, Head of Writing
The aim of these residencies is to offer the support that writers actually need over a longer period of development. A total of four residencies are awarded annually. We are now looking for two writers with a proven commitment to their own practice, to develop a piece of work over a period of six months starting in July 2019.
Our Writers in Residence includes:
- Access to a hot desk at our Head Office in Clerkenwell.
- Regular feedback sessions with a dedicated mentor.
- One free place on a Developers course (Creative Writing, Scriptwriting or Novel Writing).
- A six month Writing Club pass for the duration of the residency.
- A chance to showcase the writers work to a wider audience at the end of the residency.
- One free place on a writing course to the runner-up.
- Optional Feedback on any work published or produced throughout the residency.
Person Specification
The ideal candidates have attended writing clubs or continued to work with us on a project during a Developers course, or recently completed a Beginners course. Writers are invited to think carefully about a project that feels timely and relevant and deliverable within six months, given other commitments. Please note: this opportunity is only open to Writing Department alumni. Graduates of Developers course options or Novel Writing remain eligible and could apply with the same project if they wish. Your pitch should clearly outline the form and content of your project.
Meet our current Writers In Residence Ollie and Leilah here, or read The Writing Diaries about their journey on the programme so far.
How to Apply
To enter, please send a word document including your answers to the following questions:
What is the idea you hope to work on during the residency? [max 500 words]
What kind of support are you looking for? [max 500 words]
What do you hope to achieve if selected for the residency? [max 500 words]
How will this residency enable you to develop your practice more generally? [max 500 words]
Please email your answers to jon@city-academy.com.
What Happens Next
A shortlist of three writers will be invited to interview and a final selection announced at the end of June. Residencies will be announced in the first week of July with a consultation shortly after. Residencies will officially begin in July 2019.
The deadline for submissions is 9am on Friday 14th June 2019. Late submissions will be ineligible and will not be considered.
---
City Academy is London's leading multi-disciplinary creative academy, with Writing Courses across London.