At the heart of City Academy are the incredible tutors that help create and teach the classes that we offer. Our Creative Fund was established as a means to both celebrate and support their talent and expertise. One of this year's recipients is Katie Sherrard with her stage production of Exit Number 8, which tackles the tough and topical issue of OCD. Having been commissioned for adaptation by BBC Radio 4, we talk to Katie about the project, adapting it for radio, and working with the BBC.
~ Clara Stone, Head of Dance
---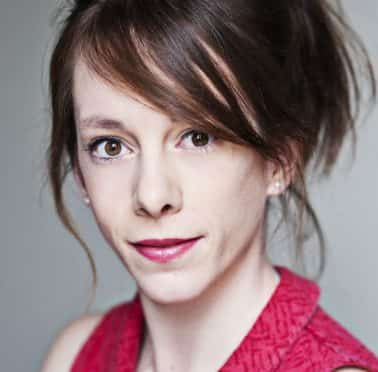 Katie Sherrard - City Academy Creative Fund recipient
Hi Katie! First of all, can you tell us what Exit Number 8 is about
Exit Number 8 is a comedy drama about Lucy, who is finally ready to break her routine. The listener is taken on the journey with her as she meets strangers on the tube, her enthusiastic colleagues and a roaming toddler. It explores the complexities of navigating life with OCD and dealing with its intrusive thoughts. It is an honest and hopefully funny piece that will intrigue and entertain the listener.
How did you hear about City Academy's Creative Fund?
I have been one of City Academy's Acting tutors for many years. When City Academy set up the Creative Fund in 2018, I applied with Exit Number 8 and luckily was one of the three recipients chosen. It is part of City Academy's ethos to develop creativity and I wouldn't have been able to do this project without them!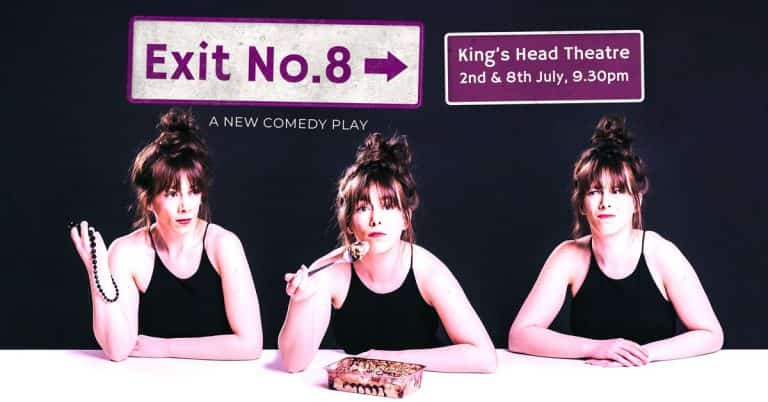 Exit Number 8 - original production poster
How did BBC Radio 4 get involved?
It has been a really exciting process! Rebecca Ripley from BBC Radio 4 commissioned me to adapt the stage version into a 15 minute monologue for BBC Short Works. Rebecca has seen my work before and I spoke to her last year about Exit Number 8 and how to adapt it for radio, so I was thrilled when she contacted me to give me the go ahead!
The day of recording was a mixture of nerves, excitement and more nerves!
What does this project mean to you? Why is it important?
This project is extremely important to me. Whilst it is not autobiographical, it is inspired by personal experience and is about a subject very close to my heart. I wanted to focus on the intrusive, uncomfortable thoughts that can be debilitating for OCD sufferers. The more openly we talk about it, then hopefully the more people will gain an understanding of it.
What's your experience of adapting the play for the radio been like? Have you enjoyed it?
It has been such a wonderful learning curve for me. I haven't written for radio before and Rebecca has been instrumental in briefing me as to what to focus on for radio. Adapting an hour long show into a 15 minute short story has meant a lot of cuts! Also the stage version was very visual and interactive, so for radio I have concentrated on the listener and being more descriptive to bring them into the world of the character.
It is part of City Academy's ethos to develop creativity and I wouldn't have been able to do this project without them!
What advice would you give to anyone new to writing for radio?
As someone who is totally new to radio adaptation I would say relish the opportunity to see it with fresh eyes! Don't be too precious about keeping what you had before, be open to going in directions you didn't expect to.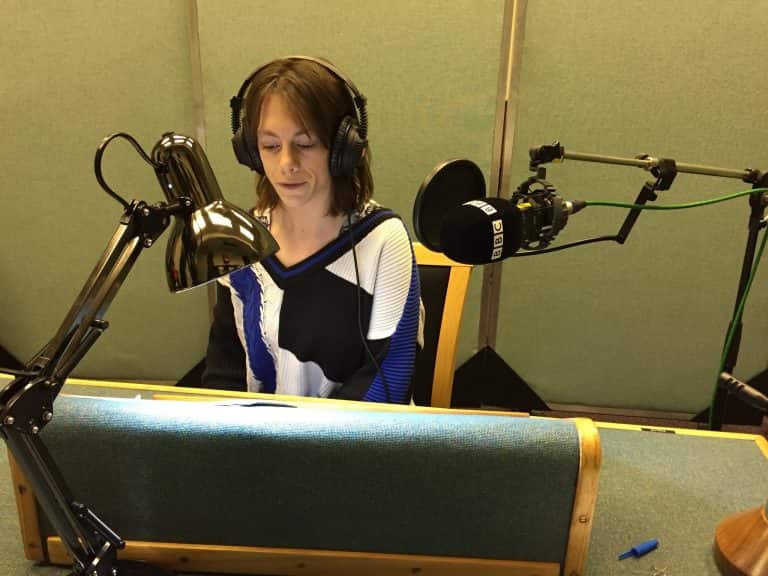 Katie Sherrard recording Exit Number 8 at BBC Radio 4 studios
And finally, talk us through the recording day at BBC Radio 4 - did it go well?
The day of recording was a mixture of nerves, excitement and then some more nerves! It was fascinating seeing the BBC Bristol building and studios, and I was really fortunate to be working with Rebecca and Tim [the studio manager]. It was great to discuss ways they could use music and sound effects to create the world of the play. I learnt a lot from the experience, especially in terms of performance. I cannot wait to hear the final piece on 15th March!
---
City Academy's Creative Fund not only offers a financial award, but a personalised approach to support. We address the needs of each project to ensure they can not only come to fruition but be shared as widely as possible.
Other 2019 recipients are:
Adrian Del Arroyo is a member of our Dance Department teaching Contemporary Dance and is the Director of the Contemporary Dance Company. He is working on an ambitious and innovative dance film which has current and ex-City Academy students working alongside him either on camera or behind the scenes.
Elliot Clay a member of our Singing Department is creating a musical exploring 21st century themes and people told through the format of an album. The finished score will enable West End stars and our own City Academy choirs to sing alongside one another.
Toby Wharton A tutor within our Screen Acting Department has written and will be directing a short film which centres around the very topical and tragic subject of knife crime. He is working with industry professionals of the highest calibre on the production.