How does dance compare to gym? Which dance style burns the most calories? Can a dance class make you happier? These were some of the questions that inspired us to team up with Scientists from the University of Brighton to shed light on the effects dance has on the body and mind.
So, one balmy day in December, we strapped a group of brave London volunteers to stylish monitoring vests and analysed their every move. The dancers worked their way through 6 styles of dance: Ballet, Ballroom, Contemporary, Salsa, Street and Swing Dance. Scientists monitored each jump, whip, twist, spine curve, chest pop and plié. The results surprised all of us.
We found that:
Dance burns more calories than running, swimming or cycling. Let's say that again. Dance burns more calories than running, swimming or cycling. Dancers in the 30 minute Street Dance class each burned an average of 303kcal. To put that into perspective take a look at this: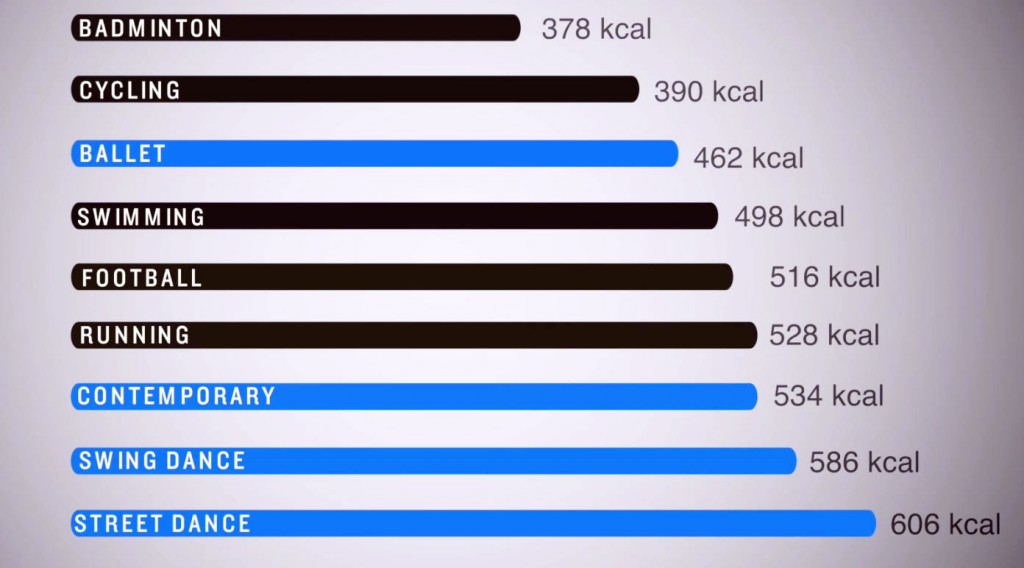 If this isn't enough of a reason to ditch the fitness routine you're loathing and head to the dance studio read on…
The heart rate monitors showed that every dance class we tested involved periods 'high and severe intensity exercise'. Dr. Nick Smeeton, lead Scientist on the project, was particularly surprised to find that Ballet - often perceived as a mild intensity dance style - involved moments of severe intensity exercises throughout. Each of the dance styles really got the participant's hearts racing and the blood pumping.
But that's not all. We were also really curious about the distances you travel in a dance class. To monitor this we had to track vertical and horizontal movement. Volunteers in the Street Dance class covered the most ground – a whopping 3.6kms in just 60mins. That's the equivalent of crossing Tower Bridge 15 times.
So…all of this heart-pumping and running about sounds emotionally exhausting...well we found exactly the opposite.
Dr Nick Smeeton told us:
"People may be familiar with 'runners' high' and there appears to be a similar effect after dancing too. In this study we found that dancing actually reduced feelings of fatigue, improved emotional states and it seems to have an energising effect overall."
Finally, some scientific proof that dance is probably the best way to exercise and leave with a smile on your face.