It's often perceived as a thankless job but pulling it off without a hitch can make you the office angel long into the new year. Here's how to keep calm and party on in ten (ok, eleven…) easy steps...Being tasked with arranging the office Christmas party can be more terror than tinsel.
1. Agree a budget
The first thing to consider is how much you have to spend or how much you'll need to ask people to contribute - this impacts on everything from what day of the week you can afford to whether your party will include drinks, food and entertainment or just one of those options. Ask a decision-maker for a budget and work within this - keeping within agreed costs will earn you brownie points and ensure you're on the right path.
2. Review Past Parties
If you're new to the company or haven't planned the Christmas party before, ask about past events to get a sense of what's been done before and how it landed with the team. For example, if 2021 included a sit-down meal and cocktail/mocktail making, you may want to offer something different in 2022 for variety. If something in the past worked particularly well, you may want to revisit it or arrange something similar for a guaranteed hit.
3. Ask for help
If you're nervous about planning the occasion solo or feel bouncing ideas off someone else would help, ask for support. You can form a small social committee to plan together and share responsibilities. One person could hunt for venues and negotiate on costs while someone else could create an office poll to pick dates and do a survey to ask for ideas.
4. Get sign off
When planning a party, it's key to understand your office culture and ethos. Check any important dos or don'ts with your boss before booking anything or arranging any surprises that could backfire. If you're unsure or don't know, don't be afraid to ask. You may not be able to blame the elves for an incident that doesn't land well!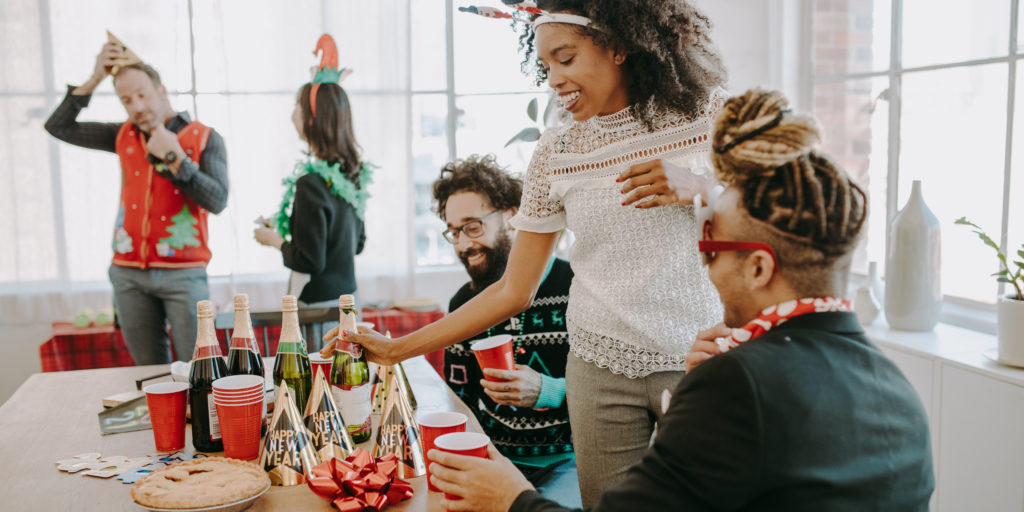 5. Book early and give notice
Booking your Christmas activity early will mean you get better availability, the benefit of potential early-bird offers and you can plan things more leisurely to avoid any undue stress. Another key benefit is being able to give your teams a 'save the date' before other festive plans, trips or social occasions crop up. For people who live further from the office, work remotely or have families, notice will make it far easier for them to attend your events.
6. Consider your colleagues
Be inclusive in your planning and consider that some colleagues may not drink alcohol, could have dietary or access requirements. If you're arranging food and drinks, a quick office poll will help you gauge what inclusions you may need to consider and what criteria you'll need to present to prospective venues, restaurants and caterers.If you're planning to visit different places for your party - whether they're restaurants, entertainment providers, bars, clubs - check accessibility to ensure it will work for everyone.
In the interest of inclusivity, you may also consider multiple festive events to include day-time and online options if you have hybrid teams, global teams working in different time zones.
7. Provisional hold
Most venues and service providers will understand potential clients are shopping around for options. If you're especially interested in a specific time and date, ask to put the option on hold while you consult colleagues. If nothing is on hold, you could be presenting options to your manager or team that are no longer available which can cause disappointment. Most providers will be happy to place something on hold for a specified time at no charge - just be sure to update them even if you don't want to go ahead out of courtesy.
8. Get everything in writing
Whether you're booking a private room, a meal or external entertainment to come to your office, it's important to have all the details noted for your records. Ask for everything in writing to ensure the date, time, costs and package you've booked are correct. If you've asked for tech equipment, special requests or specific times, ensure this is all noted and part of the agreed plan. An assumption that something is arranged with no paper trail could lead to issues on the day.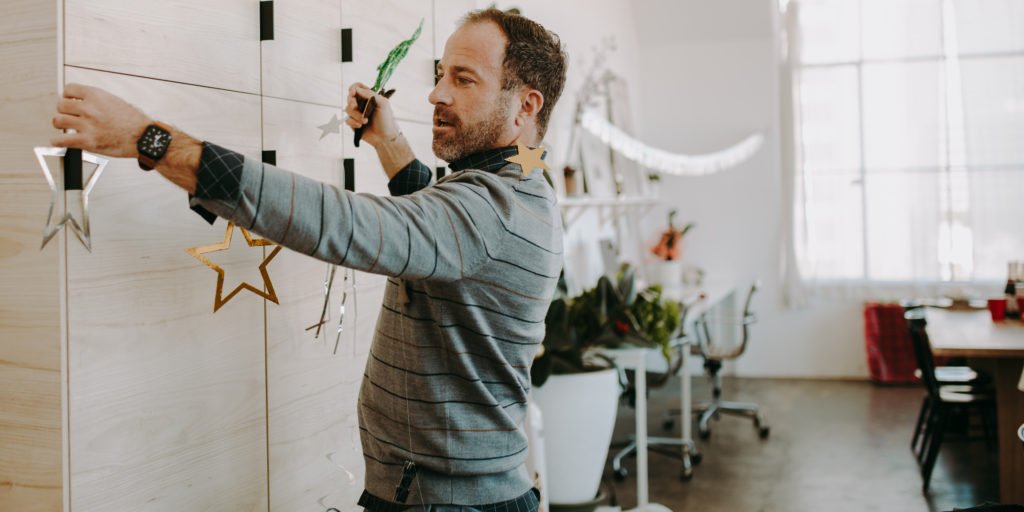 9. Avoid room hire costs
Where possible, look for minimum spends rather than hire fees when looking at external venue hires or reservations (unless you want to dry hire). Minimum spends will mean your whole budget can be spent on food, drinks and services provided by the venue giving you more bang for your bucksfizz. Along the same vein, don't be afraid to haggle with providers on minimum spends or costs - in most cases, there will be a bit of wiggle room if you ask nicely, particularly if you have a large number of employees.
Extra tips: If you're booking a venue that offers Happy Hour or promotions, ask to pre-order items at these costs - they may oblige to help your budget go further. Most venues will also include festive decorations to avoid you needing to splurge on your own to bring along. Some spaces will also have freebies or special offers to make your party sparkle for less if you book by a certain date - no harm in asking.
10. Vouchers over bar tabs
If you're going to a bar, consider vouchers over a bar tab as this will mean each guest gets a physical gift on arrival and their fair share of your budget. If you think a bar tab will be easier, consider asking for restrictions on the tab to avoid this being maxed out too quickly. Without restrictions, some guests may ask for expensive drinks, doubles or shots that might not go down well with the bosses. The venue can politely note any restrictions you've requested through signs along the bar or you could print your own bespoke company menus for on-brand oomph.
11. Some extra festive magic
For some teams, December 2022 will offer the first Christmas celebrations in three years due to covid. It's worth thinking outside the box to arrange some really special team building solutions and activities to enhance your festivities and bring people together. From festive workshops to performance pieces at events, City Academy has you covered with a suite of creative options tailored to your team.