Jo was an integral part of our Musical Theatre family for many years. She was a talented performer and a loving and kind person, who always supported her fellow students. On 17th November 2016, we tragically lost Jo when she was hit by a car as she was heading home after a rehearsal for the production of Urine Town. The following interview is from 2015, and we have decided to keep it on our website as a way for us to continue sharing Jo's story, love of musical theatre and her radiant personality. Since her passing we have also launched the Jo Reyes Musical Theatre Bursary, to give more people the opportunity to find a passion and enthusiasm for musical theatre, the way Jo did.
Joanna Reyes took a City Academy Musical Theatre course 5 years ago and has never looked back. Hear what Jo has to say about her experience..
I, like many bright-eyed graduates, left drama school hoping to 'make it' and, although I had plenty of small successes within fringe theatre, the juggling act of doing what I loved and keeping a roof over my head eventually took its toll, and I decided it was time to be a grown-up and get a responsible managerial role in the hospitality industry.
Five years later in April 2009 I found myself redundant.
I was approaching 30, jobless for the first time in my working life, and I wondered what happened to that girl who dared to dream so boldly that nothing could stand in her way?
I came to City Academy by accident: I picked up a flyer from a woman who was dressed in a business suit blazer, but her bottom half was a ballerina's tutu. I threw it in my hand bag and didn't think anything of it.
I had already decided I wanted to remain in musical theatre and audition for drama school for a post-graduate diploma once my skill level was up. I had been researching lots of places, but nothing would allow me to work during the day and then train in the evening. Then, one evening, I emptied my hand bag and saw the flyer, I turned it over and realised it was an advert for adult classes in central London, and one of the things on offer was musical theatre!
I looked at the website several times, before booking a taster session in July 2010.
I arrived nervous, excited, scared...worried it would be full of teenagers. I hadn't done a class like this in years: would I even remember how to sing and dance?
Thankfully Vicki Stone was a wonderful teacher who made everyone feel at ease, and, before I knew it, we had learnt the entire number of 'All That Jazz'.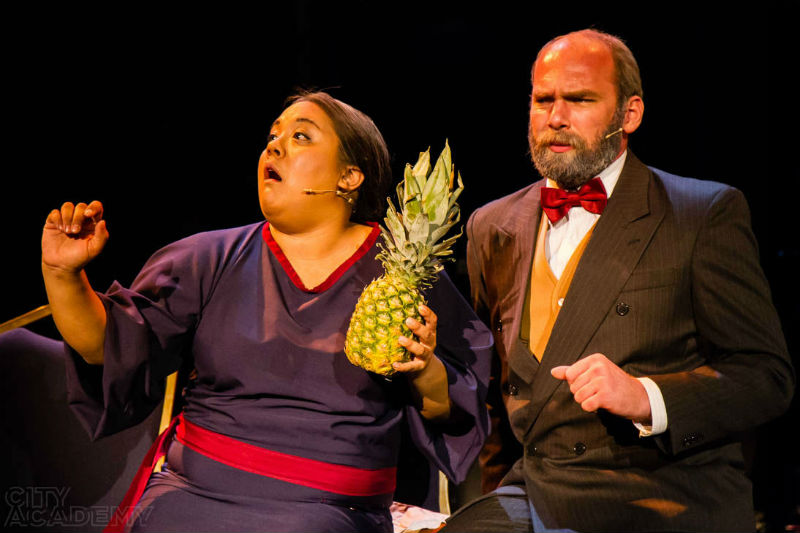 Joanna appearing in The Musical Theatre Company's production of 'Cabaret', The Shaw Theatre
I left the class exhilarated and the happiest I felt in over a year! I signed up to the Improvers Musical Theatre course and started 3 months later.
I remember turning up to class an hour early for fear I'd be late, anxious again that maybe I was ridiculous at 30 years old trying to go after my dream. But when we started the vocal warm up and I heard all the voices around me blending together, I felt this bubble of joy rise up and I left bouncing all the way to the local pub with my new found friends.
6 weeks flew by and I nervously performed dance numbers, ensemble singing and a solo in a showcase for friends and family for the first time in 6 years.
'I never imagined when I first joined City Academy 5 years ago that this is where I would end up....'
It was then that my teachers Rebecca Wicking and Vicki Stone told me I should join the Musical Theatre Company. I was blown away: a Musical Theatre Company which produces shows every year was something I could really get my teeth into.
I joined the company in the new year with a few of my new found friends from the Improvers course. It felt like the first day of school when we entered the studio together wondering: would we be liked? Would we like them? But everyone was so welcoming and we were all excited to hear about which show we were going to embark on.
To my delight we would be doing Rent, which is a favourite show of mine; we all had to audition if we wanted to be considered for lead roles. When we were told this, I felt my mouth go dry. Audition? I hadn't auditioned for anything in years, but I knew the experience would be invaluable and maybe I'd be lucky enough to get a part.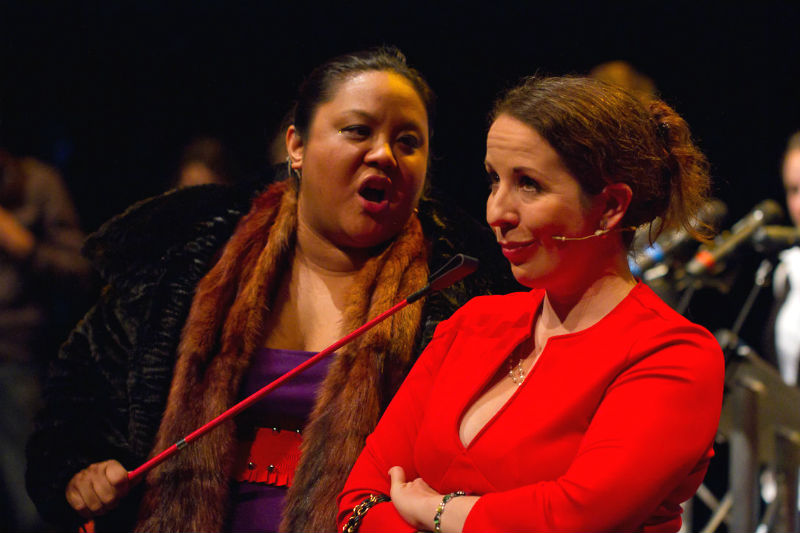 Joanna in Dick Whittington, Sadler's Wells, January 2013

After two weeks of nerve-wracking first rounds and recalls the cast list was posted. I don't think I believed it when I saw my name next to the lead role of Joanne Jefferson I had to ask my leading lady Nadira if it was actually true!
6 months of rehearsals and extra rehearsals flew by. I also started having private singing lessons to help with the development of my voice for the show, but also in preparation for auditions for drama school.
The show was a huge success; we never expected to have such big audiences as we did, but RENT has a huge fan-base, not including all our friends and families that came to see it. The feedback I received from the audience was so humbling, and I am still so grateful for any praise I receive from the shows I've been lucky enough to be in.
'It has been incredible watching the company go from strength to strength...I am so proud to be a part of this family and I'm excited for its future...'
I had made firm friends within the company and for the first time I felt like me, like I had finally come home.
I knew I had found something very special within this mish-mash of people, and I wanted to continue grafting and working hard to get better, so that one day I could stand up and be taken seriously and hopefully do this professionally.
I started auditioning for drama school that Christmas, but was told 'no' at every turn. I didn't let this dishearten me, I continued performing with the Musical Theatre Company at City Academy, and was lucky enough to be cast as the lead of Nicki Pignatelli for our next musical, Sweet Charity.
I kept focused, still continuing my private singing lessons, dancing 3 or 4 times a week as well as my rehearsals at City Academy.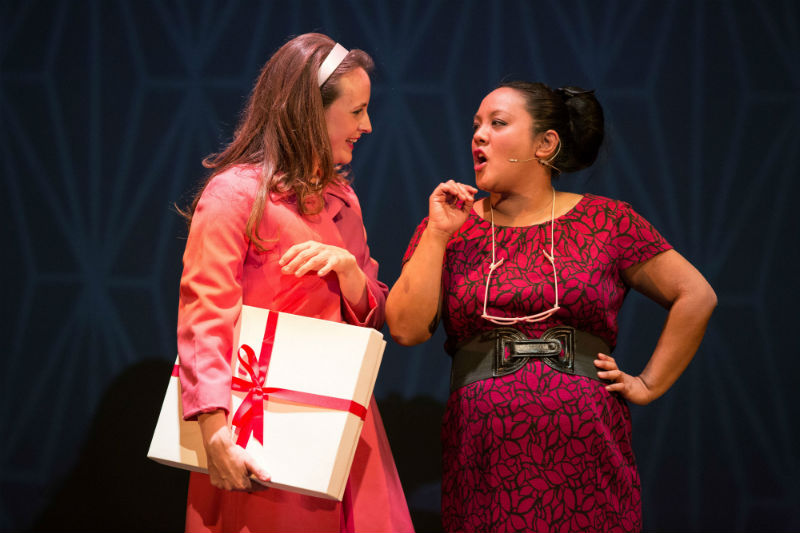 'How to Succeed in Business Without Really Trying', The Polish Theatre, July 2015
I re-auditioned for drama school the next two years, but again received the answer 'no'.
I began to wonder whether I was not good enough. Perhaps I should just stick at doing this for a hobby? But every time I performed with the Musical Theatre Company or at cabaret sessions or singing events with City Academy, I knew this was the career for me.
After 4 years of being with the company: 5 leads, one featured ensemble and dance captain under my belt, but still no drama school place I decided to change tack. After talking with my teachers Pippa O'Brien and Rebecca Wicking at great length I decided to look for an agent's showcase, with the hope that this way I could be signed and could start working professionally.
In August last year I was lucky and a place became available on the Musical Masterclass Showcase, when I got the call I accepted straight away, knowing that this was my shot and I had to take it.
I spent 5 months working 7 days a week: training, dancing, singing, rehearsing both for the panto and the showcase, as well as doing my normal 9-5 job, but I knew that I just had to keep focused on my goal.
I performed last November and January for the first time in front of some of London's finest agencies and casting directors at The Landor Theatre and The Tristan Bates. I met with two agents who showed interest and in February this year I signed with Identity Agency Group.
I never imagined when I first joined City Academy 5 years ago that this is where I would end up.
I am so grateful for all the wonderful opportunities joining the Musical Theatre Company has given me and I'm forever in Pippa and Rebecca's debt for all the encouragement they've given me over the years.
Each show, no matter how many you've done, is a different beast, and, with every role, I've learnt more about my craft and the kind of actress I am. You never stop learning, not only from our teachers, but also from your fellow company members.
We are extremely fortunate to have a wealth of talent within our company. Everybody brings different strengths and skills to the table, and together we all work hard to make each of our shows a success.
One of my favourite things is seeing current company members develop and go on to play lead roles. The biggest kick I get out of rehearsals is seeing my friends achieve a dance routine they've been struggling with, or a harmony line that wouldn't sink in. Supporting my friends with their audition preparation or helping them within extra rehearsals is my way of giving back to this company that has given me so much. I take great pride and joy in watching their performance confidence grow.
It has been incredible watching the company go from strength to strength and as one of the last 2 remaining original MT members I am so proud to be a part of this family and I'm excited for its future.
I am delighted to say I'm busy auditioning for professional work as well as still belonging to the company. It will be a heart-breaking day when the time comes for me to leave, and although Pippa has told me that's not allowed, I know she and my MT FAM BAM (as I now call them) will let me go with their blessings.
All I can say is, I lost everything at 29 years old and had to walk away from all that I had known only to discover that I would gain more than I could possibly have imagined.