It went quickly didn't it? 2015 zipped along at breakneck speed, and with 2016 already underway it's only natural for us to cast our minds to the twelve months that lie ahead. And there is a lot to be excited about, with global sporting events, music festivals, movie releases, and openings of new cultural spaces (amongst lots of other things) already in the diary for this year.
Read on for the 16 things we're most excited about in 2016…
Lumiere Festival London | West End & King's Cross | 14th – 17th January
You don't have to wait long for the first unmissable event of 2016. Across four nights in January the Lumiere Festival – the UK's largest light festival – is set to illuminate the capital, as over 20 large-scale light and animation installations take over locations in the West End and King's Cross. Based on the success of previous Lumiere events in Durham and Londonderry, this promises to be a true visual spectacular.
Hugely-influential artist Julian Opie has been commissioned to create a new permanent piece. Perhaps avoid the crowds and check out some of the lesser-known artists on show.
Zoolander 2 | Cinemas Nationwide | Opens 12th February
Since Ben Stiller and Owen Wilson (as Derek and Hansel) gatecrashed the runway at Paris Fashion Week earlier this year, and everyone subsequently lost their minds, the release of Zoolander 2 cannot come soon enough. A whole 15 years on from the first film, this cult classic finally gets a more-than-deserved sequel (and this time round, Kristen Wiig joins the cast). Excited is an understatement.
Watch the chaos unfold at Paris Fashion Week
Olympic & Paralympic Games | Rio Di Janeiro | 5th August – 18th September
Anyone who was in London during the summer of 2012 will get a heavy dose of nostalgia when Rio stages the event in August and September. London was awash with colour, pride, and positivity four summers ago. Watching it on TV doesn't quite carry the same weight as having it all right here, but we'll still be glued to every moment of the action.
Cycle Revolution | London Design Museum | Until 30th June
Ok – so it's already been open for a month and a half, but the Design Museum's exhibition of everything two-wheel-related goes on until 30th June, and we'll be stopping by sometime soon. The last few years have seen London's cycling community explode, and as the capital begins to transform into a true cycling city, this exhibition looks at both the history and future of cycling through a designer's eye.
This is your final opportunity to see an exhibition at the London Design Museum's mind-blowing bridge riverside location, before it moves to West London.
Groundhog Day (The Musical) | The Old Vic | TBC
If you've managed to catch Matilda on the West End you'll be more than aware of the musical and comedic genius of Tim Minchin – creative mastermind behind this brand new musical stage version of the 1993 movie Groundhog Day. Matthew Warchus has a tough task following Kevin Spacey as artistic director at the Old Vic, but his first year in the job looks like a bright and bold statement of intent. Groundhog Day is already set to transfer to Broadway in 2017; grab a ticket it before it goes.
Taylor Wessing Photography Prize Exhibition | National Portrait Gallery | Until 21st February
You don't have to wait for this one either (it opened on 12 November), but the Taylor Wessing Photography Prize Exhibition offers one of the most fascinating, creative, and dynamic photo exhibitions you're likely to see in London in 2016. The National Portrait Gallery has been hosting the Photographic Portrait Prize for 10 years now, and every year the variety of work on show (within what initially seems like a fairly narrow brief) is truly eye-opening.
New Tate Modern Building | Southbank| Opens 17th June
Don't panic – the Tate Modern isn't going anyway. Rather, a new 10-story space is set to open at their current location. It's a bit of an architectural marvel, with a twisting, sloping façade, jutting out from the south of the building. The exhibition and display space will almost double, with different types of gallery rooms designed to showcase different styles of visual, interactive, and performance art. We can't wait to have a snoop around.
Museums at Night | Various | 11th – 14th May & 28th – 29th October
London is blessed with some of the most rich and fascinating permanent museum collections in the world.  Museums at Night is a programme of events that sees London's museums throw open their doors after-hours, and present their exhibits in new and unexpected ways. If you're a museum-regular, this is a chance of viewing familiar artefacts in some eye-opening new contexts. If you're new to it all, Museums at Night offers a thrilling opportunity to get involved for the first time…
Harry Potter & The Cursed Child | Palace Theatre | Opens 30th June
Set 19 years after the stunning conclusion of J.K. Rowling's original 7-part series, Harry Potter & The Cursed Child is the 8th instalment we never thought we'd get – and it's a live stage show! Potter-mania shows no sign of dying down, almost a decade after the release of the final book; the world of Hogwarts presented in a theatrical setting promises to be one of the most eagerly-anticipated events the West End has ever seen. It'll be tough to get a ticket, but it'll be well worth it.
Harry Potter & The Cursed Child is a two-parter, either viewed over a full day (matinee and evening) or two consecutive nights.
London Marathon | Blackheath to Buckingham Palace | 24th April (from 9.30am)
Ok, so it happens every year, but you'd be hard-pushed to find a more awe-inspiring, dramatic, and triumphant event over the next 12 months. 38,000 runners, making their way along the historic 26.2 mile course, with thousands of incredible charities represented. If you've never been to watch – just go, there's nothing quite like it.
Most runners have their name on their shirt, so even if you don't know anyone taking part, you can shout encouragement from the side-lines.
London Short Film Festival | Various | 8th – 17th January
The London Short Film Festival has – over the last 13 years – garnered a reputation as one of the best short film festivals in the world. Taking place across 25 venues, and featuring over 75 events, 2016's festival is set to be their biggest yet. Cast your eye over the stars of tomorrow, as LSFF once again proves how vital the Short Film Festival circuit is for showcasing the work of innovative and up-and-coming new filmmakers.
Euro 2016 | France (and your local pub) | 10th June – 10th July
If you're a football fan, a summer without an International tournament isn't quite the same. This time round, 'Les Bleus' play host to Europe's finest, and it's poised to be an absolute classic. England have qualified in style (not forgetting Wales, Ireland and Northern Ireland!), just don't talk to us about our prospects of winning the thing.
Download the Match Pint app to find the best pubs in London showing all the action.
Take That play British Summer Time | Hyde Park | 9th July
Taylor Swift, The Strokes, Blur, and The Who all graced the Hyde Park stage in 2015, and with Take That already announced for next summer (and tickets on sale) – BST is fast becoming London's go-to live music event of the year. Barlow and co have never played the park, and will no doubt be pulling out all the stops for this one-off open air gig. Expect some absolutely huge singalongs.
Brush up on your hits prior to the show with this ultimate Take That Spotify playlist.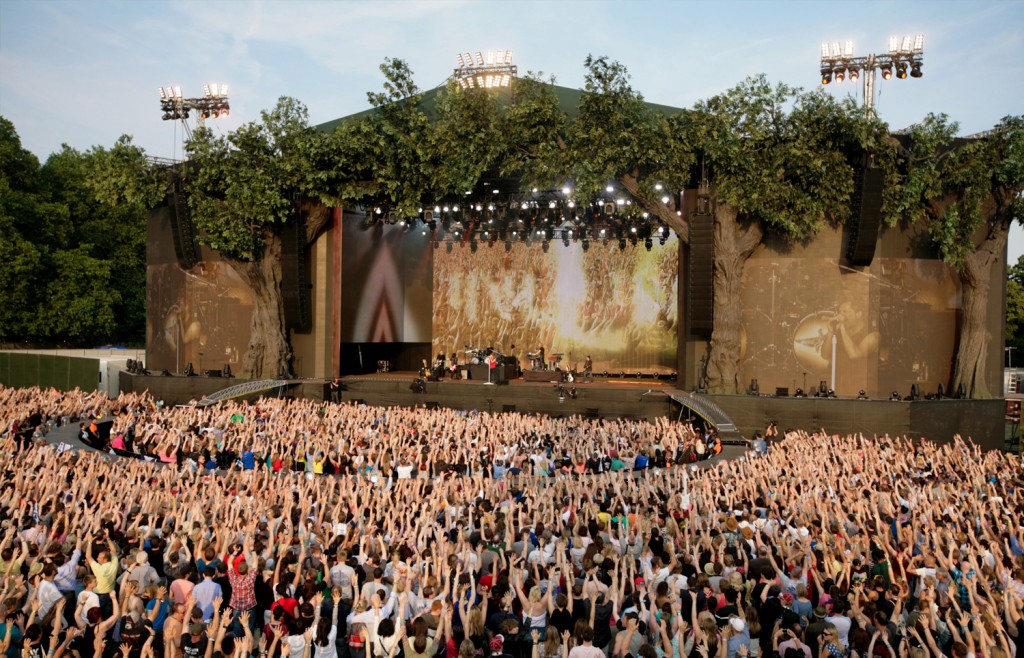 Night Tube | TFL Zones 1-6 | TBC
Londoners have long been afflicted with the geographically-imposed curfew commonly known as "the last tube". Sometime in 2016 (no confirmed date as yet) the burden shall be lifted with the London Underground's new overnight service. It comes with a few notable caveats – Friday and Saturday nights only; on selected lines only – but that doesn't stop it from being a hugely exciting development for the city. New York, watch your back.
Regent's Park Open Air Theatre season | Regents Park | 13th May – 17th September
So there'll always be a slight risk of rainfall, but it's a risk worth taking. Watching critically-acclaimed theatre under a starlit sky is a pretty magical experience, and with the theatre's programme already announced and onsale, it looks set to be an epic summer. Pride & Prejudice, Henry V, and Jesus Christ Superstar, are all sure to light up the park, and also sell out pretty quick, so grab your tickets.
Regent's Park Theatre has a 'no umbrellas' policy, so if the forecast looks dodgy make sure you pack a waterproof!
You Me Bum Bum Train | Soho | TBC
Please excuse the rude title – 'YMBBT' is the immersive theatrical event of a lifetime. Originally devised in 2004, this show has won countless awards, garnered a whole host of 5-star reviews, and on all accounts is a truly unmissable experience (people often volunteer to help create the show – just to be part of the action). Dates haven't even been announced for 2016 yet, but since it's nigh impossible to get tickets, now's the time to sign-up to their mailing list and keep your fingers crossed.
Audience members tend to be vague on the details – they don't want to ruin the surprise – so don't read any reviews before you go.
We want to hear from City Academy students about your time in London in 2016 – please get in touch: news@city-academy.com