We speak to student-favourite Melanie Clark, who teaches our Contemporary Dance and Ballet classes.
Leader of the Contemporary Dance Company, Melanie fills us in about her first Dance Showcase with City Academy, growing up loving dance in her native New Zealand, and why she thinks Contemporary Dance is more popular than ever. 
When did you start dancing?
I started ballet when I was 5 years old at the Dance Education Centre in my home town. Gradually over the years I started to learn Jazz, Tap, Contemporary, Musical Theatre and singing. I absolutely loved it and from about the age of 11 I knew I wanted to dance; I don't think I really knew what was involved but I just loved being on stage performing and being in the studio practising and rehearsing. At the age of 17 I moved out of home to train full time at the New Zealand School of Dance and focused my training on Contemporary dance – this is where it all became real and since then I have managed to keep dancing!
When people leave the class feeling better than when they came in – that's what makes it worth it!
What do you enjoy about teaching?
It is an absolute pleasure to be able to pass on some of the knowledge that I have gained over the years and share the joy of dance. The most exciting thing about teaching, especially at City Academy, is seeing the progression people make, whether it is in building their confidence, becoming fitter and healthier or seeing how they transform as a dancer – it is very rewarding! When people leave the class feeling better than when they came in – that's what makes it worth it!
How would you describe your classes?
My contemporary classes are usually quite fast-paced, athletic and dynamic. I teach a released based class which uses a lot of momentum and suspension as well as moving in and out of the floor. I also try to challenge the students with changes of direction, timing and building stamina. In Beginners we focus on the basic fundamental techniques of contemporary dance and build combinations of movement over the course. At Improvers level the classes are more challenging in terms of speed and length of combination – it is a good brain and body workout.
I was blown away by the quality of the show...there was so much energy, passion and a whole lot of sass!
You've led the City Academy Contemporary Dance company for a while now. What's the experience been like?
It has been awesome! We started in September 2015 with 13 ladies and have now grown to 22. In December we put together our first piece for the showcase and it was a great success. We meet for two hours a week and work on technique and choreography and it is amazing to see what can be achieved. The company members are passionate about performing and working together as a group and they really get involved in the creative process of making the performance piece. We have a lot of fun so it is really enjoyable for me.
How was the experience of your first City Academy Dance Show with the company?
WOW! I was blown away by the standard and quality of the dancing in all 10 companies and how incredibly professional the show was. There was so much energy, passion and a whole lot of sass. I cannot wait for the Spring showcase!
Contemporary Dance is more popular than ever – what do you think is so appealing about the form?  
It is true – there has been a massive increase in people wanting to learn contemporary dance. It has definitely been made more popular by TV programmes such as the BBC Young Dancer Award (on BBC Four) and by popular music videos but it is also much more accessible to see contemporary dance these days. Performances, especially at places like Sadler's Wells, are exciting, inspiring and entertaining and people are drawn to this and want to have that experience themselves.
It is exciting and challenging to master contemporary dance... the vocabulary of movement is endless.
Why do you think so many people are motivated to do dance their spare time?
I think dancing, in any of its many forms, is a great way to exercise in a more fulfilling and fun way. We also know that exercising in a creative way reduces stress, it improves our mental function and memory by having to remember combinations of steps, and you get to enjoy it all with many like-minded people. It's inspiring the way that the form is constantly reinventing itself, pushes the boundaries physically and dramatically and allows you to express yourself as an individual. It is exciting and challenging to master contemporary dance as the vocabulary of movement is endless.
How does the dance scene in London compare to the other places in the world you've worked?
London has it all! You can go and see a show almost any time of the day, every day and you can also take a class in whatever style almost any time of the day, every day. This is awesome. When a dance community gets together it is always vibrant and enthusiastic. It is much like this in New York and there is also a wonderful dance festival in Vienna over the summer that brings people from all over the world to dance, teach and choreograph – and there is a great food festival with traditional Viennese food – perfect!
London is buzzing with energy. There is always a festival of some sort going on - short film, dance, light shows, theatre – it is very inspiring. I also like to go and see music, theatre and dance that is a little bit off the radar, in the basements of pubs or in an abandoned building, you can see some very interesting places.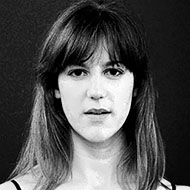 Find out more about Melanie's Contemporary Dances classes and the Contemporary Dance Company, here. Classes are held in studios in central-London studios, including Sadler's Wells.