Following our inaugural residencies earlier this year, I am delighted to introduce Crystal McClory and Desiree Weston, the winners of our second Writers in Residence Scheme - our hot-off-the-press initiative for writers here at City Academy. Over the next six months, Crystal and Desiree will both plug away at fiction and non-fiction projects, with dedicated mentoring and support from City Academy. To kick off the Residency, I caught up with Crystal and Desiree to discuss their work.
~ Jon Barton, Head of Writing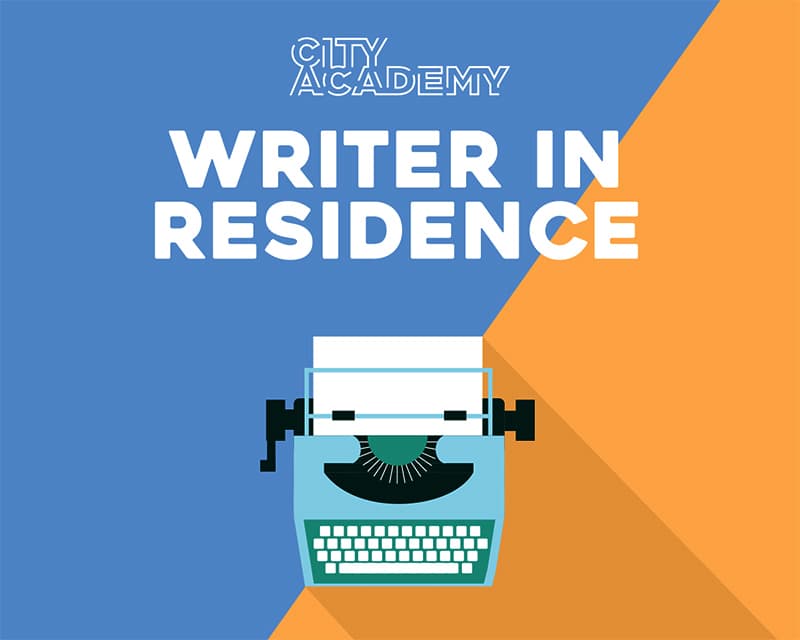 Tell us a bit about your background in writing, when and where you started, and how you got into it.
Crystal: As a child, I loved to entertain the class with stories and had a vivid imagination for writing. I told my parents I was going to have my book made at the Bookmakers! More recently I started writing in diary form and in March 2017 I booked onto a Creative Writing Level 2 Course at City Academy. I wanted to write a book about my experiences. Since then I've been writing an autobiography.
Desiree: Since childhood I have been writing stories to match the demand my imagination placed on me whenever I slipped into my own little world – which was often. My favourite subjects at school were English and History. Both allowed my imagination to be transported to different periods of time to create characters and then retell their stories. One day I was an Aztec in Central America telling the world about the empires built and then the next day, I was adopted into the Montague family after reading Romeo and Juliet. Writing has always felt natural, so completing my first manuscript is something I have always dreamed about.
What does writing mean to you?
Crystal: I've always loved to read. I was a voracious reader as a child, eagerly borrowing all seven of the allocated library books and reading them at once. Working on magazines I honed my sub-editing and proofing skills. However I was unsure of my creative writing skill. The writing course helped develop my idea and how to structure. I've found that writing has been a cathartic outlet, as well as something to focus on whilst going through a difficult time.
Desiree: Writing has become my go to during bleak periods in my life. Growing up in a warring household, writing was my pathway to much needed peace. It allowed me to create my own world and escape from friction I had become too accustomed to. Writing now gives me hope that I will fulfil a lifelong ambition and become a published author. It also forces you to be brave by presenting your work to others and a grow a thicker skin when criticism (constructive or not) is given.
How would you describe your writing style?
Crystal: A bit Adrian Mole: a black comedy with emotional insight which is hopefully funny, moving, engaging, relatable and inappropriate. I want my work to be enjoyable, entertaining and interesting; to feel inclusive as well as insightful with dark humour and some celebrity gossip!
Desiree: I think my style is quite dark and dry humour. This is possibly why I love thrillers.
What appealed to you about City Academy's Writers In Residence Programme?
Crystal: I thrive on a deadline and I needed an incentive, so it will be great to have mentoring and a space to write to just get on and finish the book. I'll really benefit from feedback, advice and encouragement with regular deadlines and input from a writing tutor. As my book is quite a difficult subject, I need some guidance and a schedule to work towards. I love sharing at Writing Club as it gives me a captive audience. It also really helps hearing someone else read it out and reassuring when people laugh at the bits that I think are funny! And I benefit from feedback offered by Head of Writing Jon Barton and the other club attendees, as it's been confidence building. My writing is very personal, sometimes it's my deepest darkest thoughts so it's interesting to share them with other people.
Desiree: What appeals to me is the opportunity to grow as a writer. I am very competitive with myself and I am always looking for ways to improve. My ambition is to write international bestsellers and in order to do so I must continue to challenge my writing so that I can continue to grow. I am also getting ready to start my second manuscript, so it will be interesting to apply what I've learnt already and what I will learn in the future.
What advice would you give to anyone applying for our Writers in Residence programme?
Crystal: If at first you don't succeed, try again!
Desiree: Focus on one project. This is an opportunity to focus on your writing and have the support that most people do not unfortunately receive.
It's a chance to grow and to join a community who fully understand the pains and joys of writing, and will be there to support your every step.