City Academy's Creative Fund was established as a means to both celebrate and support the talent of our wonderful tutors. One of this year's recipients is Singing Tutor and songwriter Elliot Clay, who will be composing a new 'song cycle' musical titled Millennials, tackling negative depictions of youth in today's society. In this interview, we talk to Elliot about the genre of the 'song cycle' musical, discuss plans to professionally record Millennials, and get an exclusive demo of the album.
~ Clara Stone, Head of Dance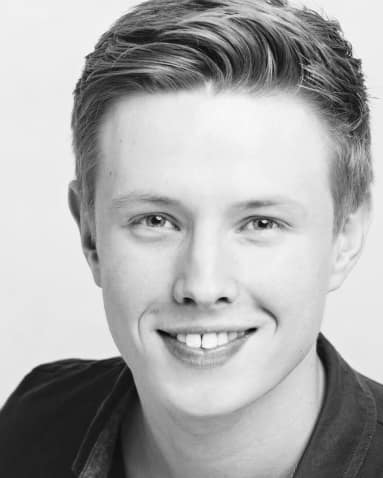 Hi Elliot! First of all, for those who don't know, can you explain what a 'song cycle' is?
A song cycle is a musical that is told through song - so a collection of songs. It's a non-traditional way of telling a story in that there's little to no dialogue. A song cycle is a bit more abstract, like a 'musical collage', which is why it's being presented as an album first and foremost.
Are there any famous song cycles we would have heard of?
The most famous is probably Songs For A New World by Jason Robert Brown, or Edges by Pasek & Paul - who are now most famous for La La Land and The Greatest Showman. Most song cycles are from the late 1990s and early 2000s, and there hasn't been any that have really penetrated since then. That's why I wanted to do one!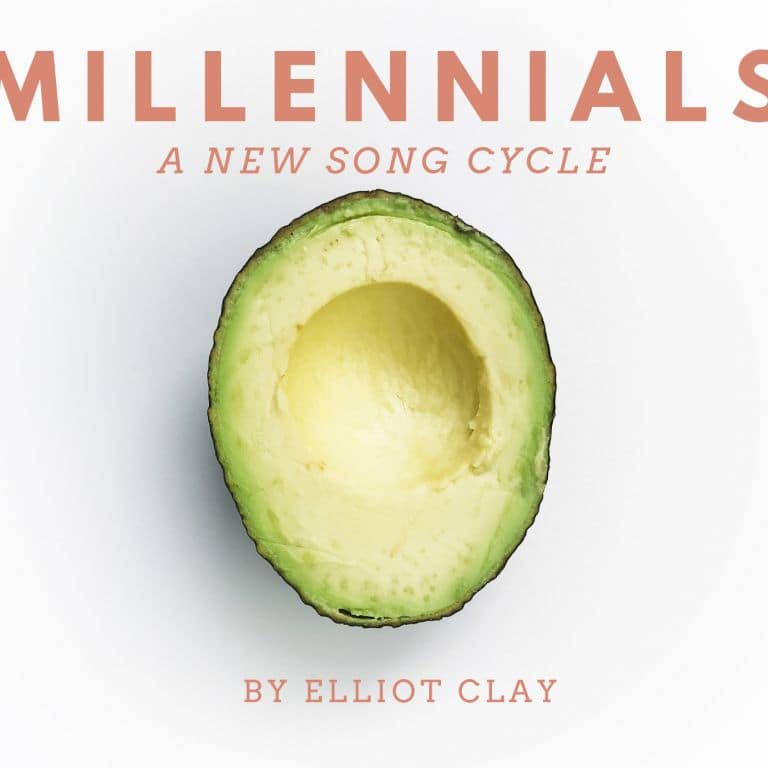 The album cover for 'Millennials'
And why did you want to create an album?
I'm always interested in writing musicals for people who say they don't like musicals. I want to try to change people's perceptions, and present things in different ways and with different styles than you would expect from a musical theatre.
Historically, there's been a lot of music in the UK Charts from musicals. The song 'I Know Him So Well' from the musical Chess was one of the longest running chart toppers at the time. Then Andrew Lloyd Webber became the master at popularising songs from musicals, like Boyzone's 'No Matter What' which was originally from the musical Whistle Down The Wind. That's why I wanted to do an album; I think it's the most accessible way for people to listen to it. I want people to not realise they're listening to a musical, but they are!
Millennials is about bringing people together not splitting people apart - a musical about extraordinarily ordinary people.
Can you give us any insights into what will the album sound like?
There'll be a range of different styles in the album, ranging from really modern songs that sound like Ariana Grande or Coldplay, mixed with songs that sound very musical theatre. The idea is that you can listen to one song, or you can sit and listen to the whole album, so it's got to work individually as well as gel as a whole thing. I've written a short demo of the Opening Song for you all to hear (below).
What made you want to apply for the Creative Fund?
Sadly in the professional industry, support for new musicals is still pretty non-existent. Any time anyone is generous enough to offer support towards any project it pricks your interest. I'm thrilled to have been chosen as one of the three recipients of the Creative Fund this year!
What does this project mean to you? Why is it important?
The famous song cycles I've mentioned pushed boundaries; they were a mix of styles which reflects the way that people generally tend to listen to a range of musical styles. Even though I love musical theatre, it's not the only music I listen to! So I think that's handy when trying to be as chameleon-like and transformative as possible as a songwriter. If I write something that people want to listen to, then hopefully they'll listen to what I have to say!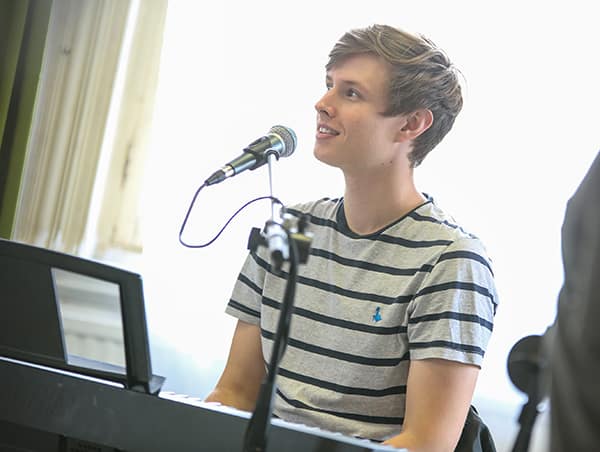 Elliot leading a City Academy Singing Lesson
Why 'Millennials'?
The word 'millennials' struck me as a big old dirty word, usually used in a negative or derogatory 'latte-serial-caffe' kind of context. I hope to change that by the time people get to the end of the album. The album will be a collection of stories about people living in this age, of all ages - it will be a musical about extraordinarily ordinary people. It's not just about 18-25s in 2019 because at some point, everyone has been that age group - who were the 'millennials' in 1899? The album will randomly jump time frames in the same way in transposes genre. At the end of the day, hopefully it's about bringing people together not splitting people apart.
I'm interested in writing musicals for people who say they don't like musicals.
How's it been going so far?
I'd never worked totally by myself before, having always collaborated with other creatives. I wanted to put pressure on myself and not rely on anyone else. It's been one of the most difficult things I've had to do - not being able to bounce ideas off people has been really hard!
Also I've realised I'm doing something that's not really been done before, so there's no reference points. The net is cast so wide; I'm taking influence from concept albums to soundtracks to pop albums. It's like a whole genre in itself, which is terrifying but exciting!
And finally, any big plans for the album?
The Creative Fund is providing the funds to get this recorded professionally, with a cast of performers who have all starred on the West End or had pop careers. Then the album will be released and available to order and download from Autumn 2019. I'm hoping the album will work as a live performance, so after this we can give schools or amateur groups the chance to put their spin on it. The joy of presenting it as an album first means people aren't attached to an original production - they can listen to it and get their imaginations going!
Other 2019 recipients of the City Academy's Creative Fund are:
Adrian Del Arroyo is a member of our Dance Department teaching Contemporary Dance and is the Director of the Contemporary Dance Company. He is working on an ambitious and innovative dance film which has current and ex-City Academy students working alongside him either on camera or behind the scenes.
Toby Wharton is a tutor within our Screen Acting Department has written and will be directing a short film which centres around the very topical and tragic subject of knife crime. He is working with industry professionals of the highest calibre on the production.
Katie Sherrard is a member of our Acting and Comedy Department. She has written a stage production tackling the tough and topical issue of OCD titled Exit Number 8, which has been commissioned for adaptation by BBC Radio 4. Read our interview with Katie Sherrard here.