Making an impact in a presentation or a speech can seem out of reach. However, everyone is capable of delivering a show-stopping performance, and in this article we breakdown the first step - creating quality and engaging content - nothing will do more for your confidence than knowing you have prepared effectively.
Follow our four presentation tips to create a bespoke presentation to capture your audience.
---
1. Establish a clear intention
Ask yourself two simple questions: What is my goal? And, what message do I want my audience to receive? Establishing a 'through-line' for your speech will keep you on track.
2. Make it relevant
Audiences will engage so much more with your ideas if you tailor your presentation to their interests. Before you get started, follow these four steps:
Research your audience - why are they here? What do they care about?
Adapt your approach - keep questioning 'How can I connect?'..'How do I want them to react?'
Mix it up - if you present regularly, think about how you can freshen things up for different audiences and their needs.
Stay on point - clarify your objective, never lose sight of it and shape all of your content around it.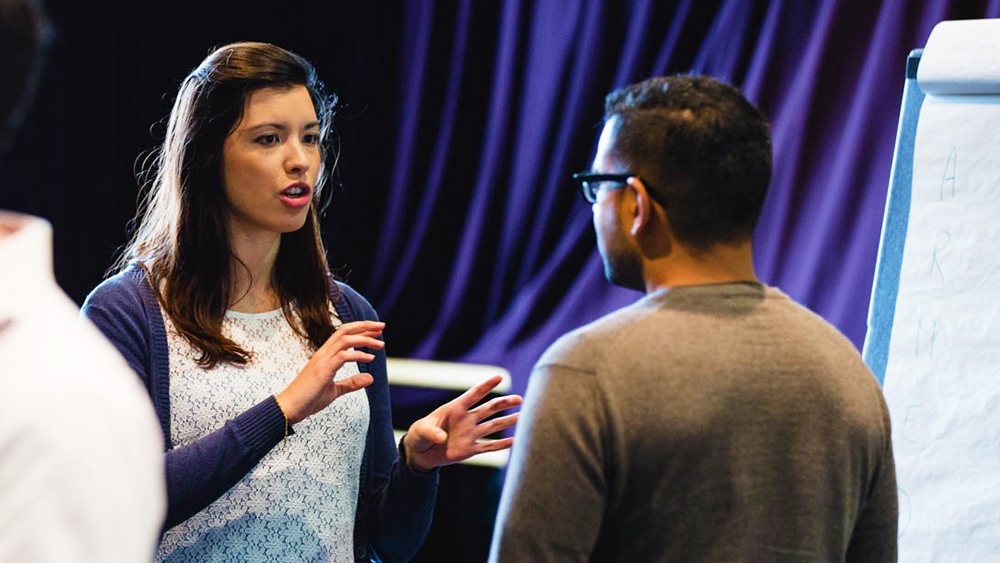 3. Tell Stories
Your audience will remember the content better if you include stories in your speech.
Even if facts and figures are important for your content, structure them around a narrative which engages the audience. Try beginning with an interesting fact, a bold claim or by asking them a question. Add points of contrasts, and use anecdotes to break up heavy content and draw attention back to you.
Beginning. Middle. End.
4. Slide Rules
In a presentation your slides are there to help you, but don't let them steal the show. Remember these rules:
5/5/5 - no more than five words per line, five lines per slide, five text-heavy slides in a row.
Picture this - use images to support your message and keep it light.
Size matters- use a legible type size and remember a screen is very different to your monitor.
Keep it simple - don't overuse effects to make your presentation more interesting (rely on your content to do this instead.)
Remember - delivering a convincing presentation or speech that engages the audience is no different to any other type of performance: the only secret is good preparation.
---
City Academy are finalists in the CIPD People Management Awards 2017 in the category of Best HR/L&D supplier. Read more here.
City Academy provide presentation training and business writing as public courses and private tuition. We can tailor our training around your needs. To find out more contact business@city-academy.com