We want to wish you all a very happy Pride Month! This month and every month we stand as a community to learn, reflect and celebrate 50 years of Pride. We will continue to champion the power of the creative and performing arts to represent the LGBTQIA+ community. It is with great pleasure that we were lucky enough to sit down with The Amplified Choir director, Simon David to discuss this momentous month and what is means to him.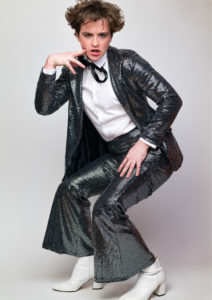 Simon is an actor, musician and stand-up comedian based in London. He studied at Mountview Academy and has worked as a musical director both in the UK and internationally. Simon's show, 'VIRGIN' enjoyed a successful run at the Edinburgh Fringe 2018.
His second show, 'Over My Dad's Body', co-written by 'Fringe First' winner Chris Larner, was described by The Guardian as, 'an affecting hour, fully aware of the "dead dad" fringe show cliché, balancing poignancy with soul-searching humour,' & received numerous '★★★★' reviews.
Over lockdown, Simon's comedy videos have amassed over 150K views online and he can usually be found hosting a cabaret with hilarious comedians, bashing out showtunes in a piano bar or tooting a saxophone with a drag queen.
Who are you and what do you do?
I'm Simon David, I'm a musician and comedian based in South London. I'm the musical director of City Academy's Amplified Choir with a repertoire of mixed harmony arrangements of pop and rock classics.
How do events like Pride Month empower you and your work?
To be honest, living in the UK as a cis gay man I already feel pretty empowered all year round. Maybe too empowered! I think Pride refocusses my attention to subsections of the community that are still persecuted like queers in countries that criminalise homosexuality and transgender people who are relentlessly attacked in the press.
How do you think we can better LGBTQIA+ representation in the arts?
There is quite a lot of white, cis, middle class queer representation in the arts. Training for a creative career is prohibitively expensive so if you come from a comfortable background - for example, my parents could afford to pay for my weekly piano lessons - you already have a head start. Investing in arts education and continuing to make grants available for arts training is definitely a start in bettering representation.
Who inspires you?
There are plenty of queer comedy greats I look up to like Eddie Izzard, Simon Amstell, Gina Yashere, Joe Lycette, Patti Harrison. And Amplified cover artists like Prince, David Bowie, Queen and George Michael - yes, I choose the songs!