Meet Rebecca Wicking, our Head of Musical Theatre. Rebecca talks to us about teaching, nerves and Barbara Streisand.
You've been teaching for over seven years now, what do you like about teaching?
I love watching the progression of my students and how much they improve in such a short space of time. It's inspiring to see them grow in not only their performing ability, but also in confidence. Many of my students start in our Musical Theatre Beginners course and progress right through to our Musical Theatre Company. We have two Musical Theatre Companies that perform to a very high standard; it's very rewarding to see how far they have come.
Describe your classes in 3 words?
Fun...Addictive...Uplifting
Can anyone dance/sing/act?
It really doesn't matter if you have a talent for performing or not: the priority, especially in our classes, is to be able to throw yourself into any role, even if it's out of your comfort zone. You will soon grow as a performer, regardless of how talented you are. It's important to be the best possible version of yourself and not compare yourself to others.
How long have you been performing for?
I started singing professionally from the age of 12, while I was studying full-time at The Sylvia Young Theatre School. After that, I went on to study Musical Theatre at Laine Theatre Arts. I still see a vocal coach now: you never stop learning.
How did you first get into singing/performing?
Before I went to Sylvia Young's I knew from a very young age what I wanted to do. One night, I was watching the Royal Variety Performance show with my Dad - there were some kids performing from the Sylvia Young Theatre School. I watched in awe, and once it finished, I forced my Dad to arrange an audition.
How do you deal with your nerves?
Nerves never go away if you care about what you do. One of the best ways to cope with the nerves is to put yourself in front of an audience as many times as possible. The more you perform, the more you learn to accept your nerves and try to conceal them before they take control of you.
Where/what is the best place you have ever performed?
I have been lucky enough to sing at some amazing places. I'd say singing for Princess Anne in Buckingham Palace was a real highlight: it was an unforgettable experience
What's your favourite show that you've performed in?
I think the most interesting Musical I have ever performed in was Hair, it is a really special piece that you can't help but get very involved in as an actor.
What do you love about being a singer/performer?
I love that everyday is different and that you are always changing style and material depending on the work. So it's always kept fresh and interesting.
What or who do you admire at the moment?
My idol is Barbara Streisand and I have always looked up to her for her talent, humour and very wise words (from quotes not in person obviously!) I was foolish enough to spend hundreds seeing her at her last concert in London.
Who would you most like to perform with and why?
I would love to perform with Bette Midler as she is so full of energy and oozes bags of star quality. She is such an outstanding actress that communicates emotion through her voice so beautifully.
Where would you most like to perform and why?
I'd love to perform in any Broadway Theatre. I love New York, it's the second best City in the world in my opinion (after London of course.)
What inspires you to keep doing what you're doing?
The love of musical theatre, performance and singing. You have to love it enough to persevere with this profession, it's a very tough industry to survive in. I've been luckily enough to find a great balance of performing and teaching which has helped me sustain my career in the industry.
---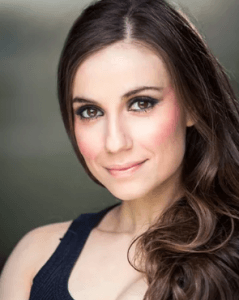 Rebecca Wicking is head of Musical Theatre - City Academy run adult Musical Theatre classes across central London, find a class for you below:
- All Musical Theatre classes
- Musical Theatre Taster
- Musical Theatre Beginners 
- Musical Theatre Improvers 
- Musical Theatre Company 

To see all classes being taught by Rebecca Wicking CLICK HERE