Our Street Dancing Classes are all about fun, flair and attitude! Originating on the streets of the Bronx, this high energy style has seen a massive resurgence in popularity. We caught up with Street Dance tutor and professional dancer Tarnya Neil about why she fell in love with Street, what to expect from her classes, and her own journey from the halls of the Royal Ballet School to the stages of superstars.
Hi Tarnya, we have to start by asking, what does Street Dance mean to you?
Hmm, well, Street Dance has become a real area of joy in my life as I get to teach so many different students - some I introduce to Street for the first time, and some I help develop further as street dancers. I'm also very passionate about continuing to grow as a dancer too, and so I love to continue to explore more within Street Dance. I believe as a teacher I should keep pushing my limits too!
For those who've never heard of Street Dance before, how would you explain it in three words?
I would say Street is an umbrella term for many different styles of dance including Hip Hop Party Moves, Breakin', Locking, Popping and House, plus many more. It's a social and freestyle form of dance. (That's a lot longer than 3 words, sorry!)
What's the best thing about teaching dance?
I genuinely love to see so many different students and abilities in every class I teach. I love to see people smile when a tune comes on that they really love, or when someone nails a move they've been struggling to grasp for a while. I think the overall freedom dance that can bring is really special - that moment when a student's gone from over thinking the moves to just feeling and connecting with the music. If I can bring a bit of fun into people's lives through dance then I'm happy!
You get to travel a lot in your job and take part so many different shows, films, tours etc. Can you share some of the highlights of your career so far?
That's a tough one… there's been so many, all for very different reasons. There's one job I did a while back that wasn't in the genre of Street Dance, but it sticks out to me simply because of the connection I had with the performance at that particular time in my life. It was for the artist Alicia Keys at her Royal Variety Performance in 2012 singing 'A Brand New Me'. It was just a time in my career that I made some really important decisions and personally came to a new place within myself, so I guess it meant more to me than just 'another job'.
More recently though, a highlight would be joining the Dance Company 'BoyBlue Entertainment'. I have long admired and respected all the work they do, so becoming a member and having the chance to train and perform in shows with them has been such a challenging and exciting opportunity for me personally.
I think there is something so inspiring about people willing to give new things a go!
What was it like training at the Royal Ballet School? Was it really as strict as they say?!
Ha! Well, that was quite a few years ago now, but I do remember it being a very competitive environment. I have to say that although Street and Ballet seem very far apart, I do appreciate my classical training. I think it gave me a good base of foundation and technique which I can now translate to other styles.
Some people might have done other types of dance, but many have never danced Street Dance before - what advice would you give to beginners?
Go for it!!! I think there is something so inspiring about people willing to give new things a go, especially when you have the fear of 'what if I'm no good?'. The beautiful thing about dance, especially Street Dance, is it started socially, which makes me believe it's really important to have fun! Even the best street dancer out there started as a beginner. I think it's about saying 'yes' and allowing yourself to do something you may have always wanted to try. The Beginner Classes are great as pretty much everybody is in the same boat; having never done this style before. The way all Street Dance Classes run is always very clear and easy to follow.
What's the hardest thing about being a professional dancer?
If I'm being honest the hardest thing about being a professional dancer is the fear of being rejected, and feeling like you're not good enough for a job you really wanted. I guess it's the same in any area of work; you are always faced with competition and it's learning how to deal with the knocks to your confidence along the way. That's why one of my favourite quotes from Brene Brown is 'Strong Back, Soft Front, Wild Heart'. I just love that!!
Tarnya is the most amazing dance instructor I have come across [...] I honestly couldn't have enjoyed her sessions more!
~ blogger Natalie Johanna
Is Street Dance something everyone can enjoy?
Yes, of course! Anyone and everyone. I have a funny story from one of my students, which makes me believe this is true... Every time I'm teaching her, her dog will not leave us alone. She loves the music and will stare and watch us all the time! In my head she's thinking, 'in another life I hope that I'll be able to do that' (so random, but thought I'd just share! Hehe!).
---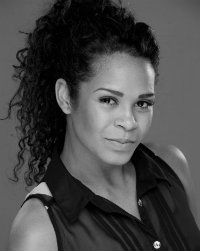 Tarnya Neil is a City Academy Street Dance and Commercial Dance tutor - City Academy run Dance Classes for adults across central London, find a class for you below:
- Street Dance Taster 
- Street Dance Beginners
- Commercial Dance Company 
To see all classes being taught by Tarnya Neil CLICK HERE