Natalie Lightman has rediscovered her love of singing with City Academy and is a founding member of our Songbirds and Collective choirs.
We catch up with her about what being in a choir means to her, how it has boosted her confidence professionally and the many other social benefits being in a choir brings. 
What made you decide to join one of our choirs?
When I moved to London, I wanted to do something outside of work where I could meet new people, and a choir seemed perfect. I sang a lot in school, and for county choirs back in Wales but stopped when I started university – I had other social activities to commit to then! Now I'm not a student anymore, my priorities are different.
You've been a member of the City Academy Songbirds since it started, what were your first impressions of the choir?
When I joined the 'Ladies Choir' (as the Songbirds were known by back then), everyone was so friendly, it was really easy to integrate with everyone. The atmosphere was really fun (thanks to Kat, our choir director) and because the choir was just getting started, everyone was getting to know each other and we were really enjoying the songs that we were singing.
Do you have a background in singing?
I did anything that involved singing or playing the violin at school, which I really enjoyed. I loved taking part in musicals, although I can't act or dance, so joining the choir was actually perfect for me! Knowing how to read music from playing the violin really helped now that I read it at choir rehearsal. Giving up singing at university was one of my biggest regrets and I'm so happy that I've been able to start it again!
Singing in the choir has done wonders for my confidence
How does singing complement your professional life?
I'm an account manager for a SAAS company, which involves constant interaction with clients, often senior members of global companies. Singing and performing in the choir has done wonders for my confidence and helped me overcome barriers. There are many correlations between giving presentations at work and getting up to perform with the choir. It has definitely helped me speak with confidence at work and helped remove any anxieties.  I usually joke about not being able to side step in time when singing (which I'm not great at), which was initially embarrassing, but even facing that and being able to laugh about it has boosted my confidence.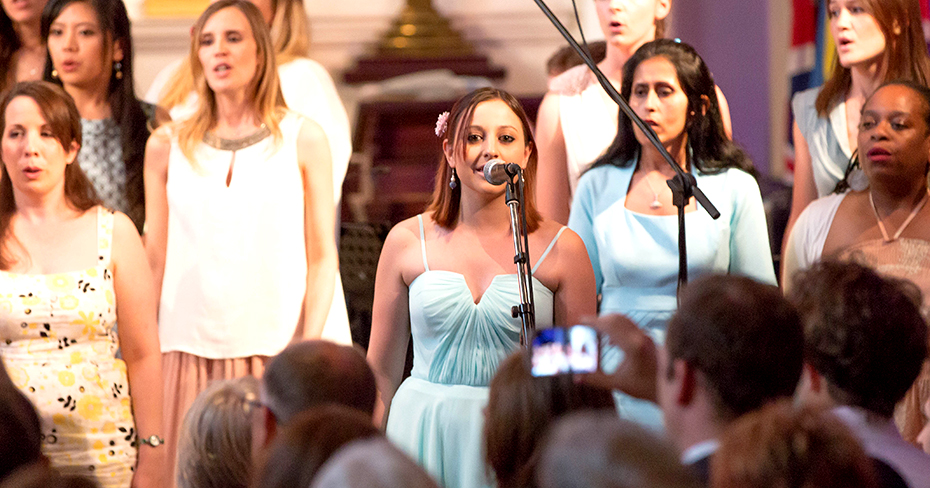 Natalie performing at the Songbirds Summer Concert, 2015.
How has your performance ability improved since singing in the choir?
I've definitely improved my technique. I'd forgotten so many things since being at school, but Kat Hare has such a great way of teaching, we learn new techniques without even realising it. She makes learning simple and fun. I've grown personally and we've grown as a group. If you look at the first concerts, then look at our concert last December, you can see and hear how much we've developed vocally and with our stage presence – we also have so much more fun now!
Which professional performers inspire you?
There's not really one person that I would choose, my music taste is so varied. I listen to everything from Newton Faulkner to Taylor Swift. I do love musicals though and Wicked is one of my favourites, so certainly Idina Menzel. We've sung a few musical numbers with the choir so I have a soft spot for Matilda and Book of Mormon too. It was also fantastic to sing with the Sons of Pitches at our last winter concert, it got us all so excited and proud to be singing with such great singers.
Songbirds goes so far beyond just the music: it's a great network of friends
What is the social side of the courses like?
It's amazing. Songbirds goes so far beyond just the music: it's a great network of friends and people I have so much in common with. They're extremely supportive and really sociable, and everyone loves singing as much as I do. I have been through some difficult times recently and their support has been hugely important: it's not just about the social drinks, it's all the support on the side too.
You're a member of the City Academy Songbirds and Collective, why do you choose to join two of our choirs?
I helped out the Collective when they were just starting and there were only a few of us. After that, Doug Hansell asked me to join as there were not many altos. As we grew, we all gained confidence as a choir and I made more great friends. I also really enjoy singing with males, it adds a different dynamic to the Songbirds with the different voice types, changing the perspective on the material we sing.
You've been taught by a few different tutors at City Academy now, how would you describe them?
They have all been fantastic. I soon realized they all had one thing in common, that they made all the classes fun! Even when we're learning technique, they are all full of enthusiasm and keep the classes bright and bubbly. It's great that they're from different backgrounds too; we get taught skills in not just technique, but also in performing.
What would you say to someone who was thinking of trying a class with us or joining a choir?
I would say definitely do it, just jump in. I would also say that it's worth spending time getting to know the group you are singing with and finding out what they're like. Some people may leave without speaking to anyone and not look at the bigger picture and realise how fun the group is and how lovely they all are!
[separator type="thin"]
Find out more about singing lessons at City Academy here.
To find out more about the Songbirds Choir and how to book a taster class, click here.