Bad beats will always happen. I watched Call the Midwife on a wet January evening and was horrified that some of the scenes were cut. I was sitting next to a seasoned actor, who toured with the RSC bringing Shakespeare to the undiscovered nooks and crannies of the UK with Daniel Day-Lewis, before the fame of My Left Foot took him swiftly into the holds of Hollywood stardom. "They cut some of my scenes! They cut my favourite ones!" Mortified and open mouthed I turned to him for a reassuring response ... "Get used to it. It happens." Harsh but fair words.
It's very true; never expect to see all the scenes you've filmed in the final product, it will almost never happen.
The bleak months of December, January and February eventually passed, as did my audition drought. My new agent was getting me in the room, meeting casting directors for all sorts of TV and theatre jobs, and the odd film here and there if I was lucky. I was at Spotlight (the casting centre in Leicester Square), waiting to go in for a small part in a TV series.
I was in the waiting room, preparing for the TV series, whilst others limbered up tight t-shirts and vests. As I was going through my lines I heard yelps and animal screams from the adjacent room, where another audition was being held. 'Thank God I'm going for something 'normal' this time'. I was next in, took a couple of breaths and felt my phone go in my pocket...
"Hello?" ... "Tom, it's Gavin - got a last minute casting for you." ... "I'm just about to go in for the other one -" ... " Yeah, I know. But this is at Spotlight. It's for a new remake of Tarzan, it's in half an hour." ... Of course it is ... "Yeah, OK, I can do it." ... "You need clothes you can move in." ... "I'll do it." ... "Nice one, good luck. You gotta be a gorilla." ... No shit. Phone back in the pocket, and so much for 'normal' castings.
I don't even remember what the first one was for; it was overshadowed by having to realistically impersonate a gorilla in half an hour. As soon as I got out of the audition room I ran to the nearest sports shop, bought shorts and a t-shirt, and was back waiting again, going over in my head how I was going to do this... It's for Tarzan, he's not actually a gorilla...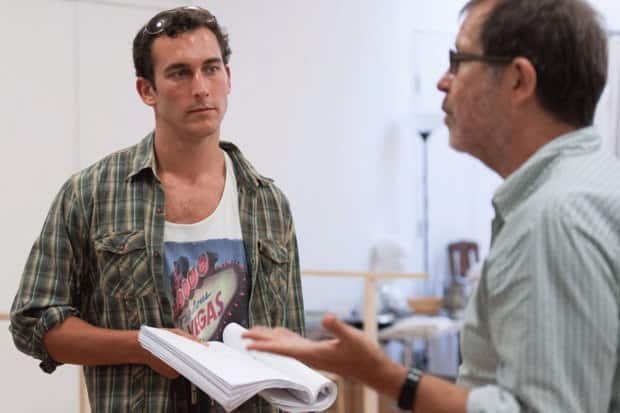 In I went... and spent half an hour jumping on office furniture going between playful gorilla, sad gorilla, happy gorilla, furious gorilla, mournful gorilla. I came out exhausted and sweaty, got changed and went home. What a bizarre day. The next day my agent calls again; "Casting director from Tarzan loved you. You're the favourite, she's sent the tape to the director. I'll keep you updated."
I couldn't quite believe it, and over the next few weeks I was getting closer and closer to the role; I cancelled a holiday to meet the director and producer at the studio, I was the director's choice, filming schedules and preliminary dates were arranged, my agent was bouncing off the walls, and I was too. I was going to play Tarzan! I imagined all the other work after it; the TV and film roles, great work in the theatre, never having another bar or labouring job. Then...
"Tom, it's Gavin. So, no easy way to say this. They're not going to offer it to you anymore. The producer said they can't have a 'nobody' playing the lead. It's some guy from Twilight." ... I always hated that franchise, now even more so ... "OK, no worries. Thanks for letting me know." It hit me like an anvil in a cartoon, and I spent a week spiralling into a nasty depression, all my visions faded as fast as they appeared and I was back to looking for bar work. It remains one of the worst 'bad beats' I've ever had.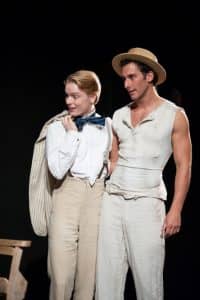 "Tom, it's Gavin. Theatre audition for you, for a play called The Judas Kiss by David Hare. It's about Oscar Wilde and going on at the Hampstead Theatre in September. You're going for an Italian role, so you have to speak Italian. " ... "I don't speak Italian." ... "Could you try?" ... "...Why the hell not." ... "Great, it's in a couple of days, I will send the details over." I read the play and it was incredible; the characters beautiful and well defined. I wasn't suitable at all but I thought it would be a great way to get over the misfortune of Tarzan.
I went to the Downstairs space at the Hampstead Theatre in Swiss Cottage, a place I used to go to a lot when I was training over the road at The Royal Central School of Speech and Drama. The casting director was lovely but just before we walked through the door she turned and said "Just so you know, if you get past this round you would need to do the recall naked, would that be OK?" ... "Erm, yes, of course. Yes." ... "Great, let's go in."
I met Neil Armfield, Australia's most prolific theatre director and read through the scenes in what was most likely the worst Italian ever spoken. It was all rather embarrassing and I left as soon as I could. I was stunned when I found out I had a recall. And then I remembered it was sans-clothes... And David Hare was there. After standing in front of them in my birthday suit I read the scenes with a reader, had a chat about the play and left. They were cordial and polite. The other actors were all Italian so I assumed that would be the end of the road.
It wasn't. I got the part. Somehow. The Hampstead Theatre. Italian. Naked! My first proper theatre gig and it was the biggest challenge of my career. I stepped into the rehearsal room, and much like Call The Midwife, there was a plethora of producers, actors, costume and make up designers to become acquainted with. However, meeting Rupert Everett was the real treat. He was welcoming, warm and had a sparkle in his eye; it made one realise that he is the perfect actor to bring the wild and witty Wilde to life.
I went to every rehearsal, regardless if I was needed, to watch Rupert and Neil work together on such a beautifully crafted script. I learned so much about the actor/director relationship, discovering and refining character, and developing narrative in an organic and natural way. Observing can be just as valuable as doing.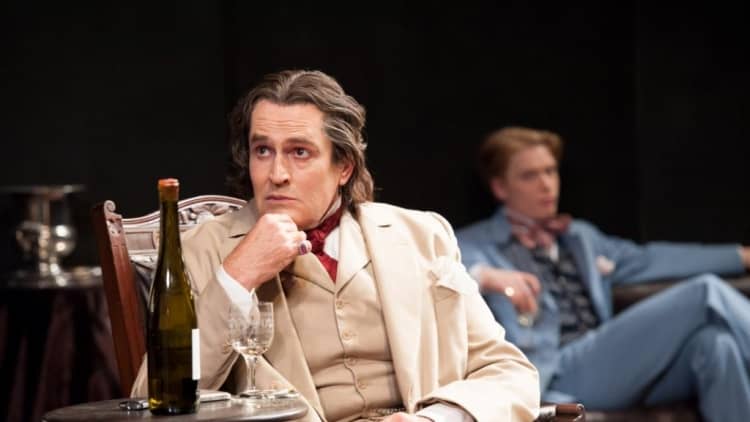 It got round to the previews in no time at all. I had spent four weeks with a wonderful vocal coach from Sardinia, who somehow got my Neapolitan accent up to scratch ready for sharing with a public audience. However, I hadn't taken my clothes off during the rehearsal process (a possible error), so as the audience filed in and took their seats I was preparing back stage, going over the Italian lines with my coach and saying a little prayer that everything would go smoothly.
I was only in the second act and so waited by myself in the dressing room listening to the first act playing out over the backstage speakers. Then the interval was over. Then my call. Then waiting in the wings. Then a nod from the stage manager. And then the lights ...
I didn't know it yet, but from this moment forward my journey through this world would be wrenched drastically in another direction...
---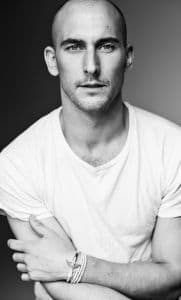 Tom Colley is a Screen and Method Acting tutor. City Academy run Acting for Screen classes across central London. Find your class below:
- All Screen Acting classes
- Screen Acting - Introduction course
- Screen Acting - Level 1 course
- Screen Acting - Level 2 course
- Screen Acting - Level 3 course
- Screen Acting Intensive courses
- Professional Showreel Package