The Hampstead Theatre is a 325 seat theatre, newly located opposite The Royal Central School of Speech and Drama in 2003, and has put on works by prestigious writers and famous faces such as Dennis Kelly, David Hare, Nina Raine, Mike Leigh and Rona Munro, among many others. It is considered a top transferring house in the theatre world, although I was just concentrating on the five week run that we had there between mid September and the end of October.
The press night came around quickly after the five preview shows were over. Filled with gratitude for these preview shows, allowing me to work up to the all important press night, I stepped somewhat more confidently onto the stage under the lights with a tad more power that was absent to the previews.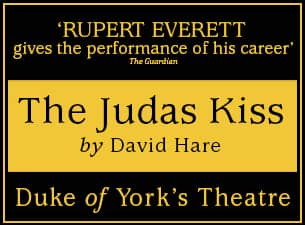 The show went well from what I can remember, and I was sharing a space with celebrated guests, photographers, agents, journalists and casting directors. On the way down to the press night party I bumped into Bill Nighy, who cordially shook my hand and said he really enjoyed the show. With the benefit of hindsight I wish I could have said to him "Thank you, and I look forward to working with you at the National in 2016." I assumed he was off to congratulate Rupert Everett on his charismatic and utterly engaging performance as the infamous Oscar Wilde. All the same, it was a nice touch and I smiled to myself whilst winding through the back stage corridors on my way to the foyer.
Out in the open, I found myself chatting to some acting greats; Emma Thompson sat me down at a table and told me how great she thought I was (an ego boost for anyone!), Italian great Greta Scacchi came up and introduced herself in Italian, to which I replied; "I'm sorry. I'm not Italian, I'm from Essex." She looked genuinely shocked and insisted that I must have Neapolitan blood in me. And there I was throughout rehearsals petrified that I wasn't convincing enough in character. All those previous nerves started to ebb away after that night, and I attacked the rest of the five week run with renewed confidence and vigour.
In the last two weeks of the run we were summoned into the Hampstead Theatre Green Room to have a production meeting. We all sat down and pairs of puzzled eyes darted around in the vain hope of understanding what it was all about. The producer came in with Rupert; would we be "interested in doing a five week tour after the show, starting in Dublin and ending in Cambridge?".
I could have cried with happiness; my first theatre tour was to be on stage with Rupert Everett. I felt incredibly lucky.
We all enthusiastically agreed, and contracts were drawn up over the coming weeks. I was without a home at this point and was taking advantage of the generosity of a friend's parent's house in Northwest London. I felt happy that I could relieve them of the burden of feeding me and providing a roof over my head, and it felt good. Really good. I've always struggled with self-sufficiency and independency, and it was a chance to finally save some money and travel around the UK and get some touring experience.
If there is one thing that I've learnt being an actor over the last decade, it's that one shouldn't set expectations. They almost never become a reality. Of course, I didn't save any money and I should have known that going in. I was like a puppy discovering a new garden for the first time when we landed in Dublin. Acting and the 'actor's life' is all about cycles of new discoveries and new beginnings.
It is exhausting and thrilling all at once. And a weekly tour is just that. There's a lot of packing and unpacking, train journeys, finding digs, and tedious tech rehearsals. That's the unglamorous part of it ... but there's a flip side too. Each place is new and exciting, the audiences differ with each venue, your craft is tested, and your ability to make your performance fresh and engaging each night, whilst maintaining the director's vision, is a wonderful test. It's an exciting challenge to embark on, and one which I felt was accelerating my development as an actor.
Even now I am still learning. Sanford Meisner says "it takes twenty years to become an actor." There is a lot of truth in that.
The other truth is, everything comes to an end. Anything creative finishes at some point and we must be mindful of that fact. It's hard to remember it when you're having a fireworks party on the rooftop of Matthew Bourne's flat in Brighton for Guy Fawkes' night whilst on tour with a critically acclaimed play, but trust me ... it happens. And the fall can be brutal.
The best thing for an actor to do is build a metaphorical mattress to help cushion that fall as much as possible. This can be from not spending all of your money like a mad hedonist on heroin (it's still tough), to maintaining good communication with your agent in a hope to set up some work for when you finish, to reading plays and watching films as research when you're not at the theatre.
Plan for the end, don't expect anything to happen, just plan so when you finish you still retain a healthy sense of purpose and drive.
Before we finished the run at the Arts Theatre in Cambridge another meeting came up; would we be "willing to take the show into the West End with the play at the start of next year?" And just like that I had gone from my first paid theatre production in a reputable London venue, to my first small scale, weekly UK tour, to embarking on my first (and at present, last) venture into the West End. Things seemed to be going very well so far, and my agent was happy.
I did keep reminding myself at various points in the tour 'don't get greedy ... just keep doing the work ... don't get complacent ... it will all end at some point.' Sometimes lucky runs like this one can make you feel that you'll never be on the wrong side of the bar again, or tying up muddy work boots at 5am, or statuesquely holding another tray of champagne at some company staff party. With that in mind I rented a room in Alexandra Palace for the interim period over Christmas and the New Year before 'refresher' rehearsals were due to start in January...
---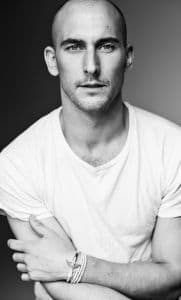 Tom Colley is a Screen and Method Acting tutor. City Academy run Acting for Screen classes across central London. Find your class below:
- All Screen Acting classes
- Screen Acting - Introduction course
- Screen Acting - Level 1 course
- Screen Acting - Level 2 course
- Screen Acting - Level 3 course
- Screen Acting Intensive courses
- Professional Showreel Package