This week The Producers opens at The Bridewell Theatre. Our Musical Theatre Studio Company has worked so hard on this hilarious show and we cannot wait for you all to see it. We sat down with Assistant Director and Stage Manager, Giusy Pappalardo to discuss this musical and her journey through the rehearsal process.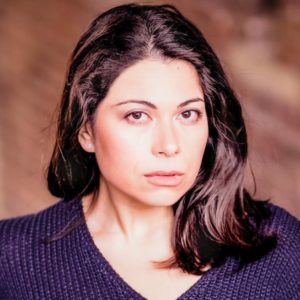 Giusy trained at the MTA in Catania, Italy. Her Theatre credits include Soloist in Godspell (Bridewell theatre), Barista in Adela in London (Camden Fringe Festival), Mary Magdalene in Jesus Christ Superstar (Fringe), Jack's Mother/Cinderella's mother in Into the Woods (Shoreditch town hall), Fräulein Schneider in Cabaret (Shaw Theatre). Assistant Director credits include, City Academy Studio Company productions of Sweeney Todd (Shoreditch Town Hall), Lend Me a Tenor (The Courtyard), Assassins (Landor Theatre), In the Heights, Chicago and Avenue Q (Bridewell Theatre). Director credits include, Rice (Unbroken Theatre Festival, Barnes), The Dream (Actor's Church, Covent Garden).
When I was first told we were going to do The Producers, I definitely was a little skeptical. In true Mel Brooks style, the show truly makes you question whether you should laugh at Max and Leo's schemes, the politically incorrect new musical they are producing and the larger than life characters you are introduced to. It is a great show, lots of fun, lots of humour and exciting parts to perform, but at the same time I was worried it was going to be hard to find the right cast and put it on its feet in just eight weeks.

My doubts vanished when I saw the first audition videos and I sat in the recall room. So much talent to choose from; I was blown away! There were familiar faces from previous shows I had Assistant Directed and even from previous shows I had performed in. It was also really heartwarming to see new faces and new potential waiting to be discovered.

The creative team were spoiled for choice and I am ever so proud of each and every one of the people who auditioned.

Sitting through the first dance rehearsal was surreal; the cast went in with such enthusiasm and willingness to learn. By the end of a two hour session, we had our first number, 'King of Broadway', fully staged! Take it from someone that has been in their fair share of rehearsal rooms…when it happens, it's magic.

Another wonderful moment was hearing the cast learn their very first harmonies - there is always something emotional about hearing beautiful voices singing beautiful tunes together.

The Producers is definitely a wacky show, the apotheosis of slapstick comedy and humour, and I have loved every minute of this process. I am grateful to have been able to sit through rehearsals, watch the performers escape their comfort zone and explore their more comedic side. Most importantly, I've watched us all grow as artists and friends.

As goes the life of the Stage Manager, I won't get to properly see the show in its full, final form. But, I cannot wait for the audiences to step through the doors and forget their troubles for a couple of hours. It is a gift, and I am truly looking forward to opening night and witnessing the audience's first reactions!