PECKHAM HOT SPOTS EVERY CREATIVE NEEDS TO HIT!
We're thrilled to be able to offer courses at the prestigious Mountview College, in Peckham, Southwark.
As newbies to the area - we thought we'd have a good nosey around and find out what other good stuff there is to do in our new neighbourhood, Peckham. Aside from the classic Peckham to-dos, like the epic rooftop bar Frank's and the Peckhamplex - (the cheapest movie date within M25) - the borough of Peckham has loads more to offer.
So, start your day with a wander down Rye Lane and, if you can tear yourself away from the smorgasbord of shops and street markets - here's some suggestions to fill your time and channel your creative energy.
1. PECKHAM LEVELS
This converted car park deserves a right honourable mention. A hub of creativity, fun, independent business and some seriously good eats - you could easily visit 20 times and try something new every time.
They are on a mission to provide spaces for local creatives to build their businesses - and even provide subsidised rates for those just starting out.
With loads of events, both free and paid from soul music nights to sewing clubs - there's something for every taste. And, when you're done, tickle your more traditional taste buds with food from the vendors on the top level. (Top tip: try hipster Hawaiian sushi bowls from Lords of Poké).
2. SOUTH LONDON GALLERY
A gorgeous, contemporary, and pretty damn cool gallery set between a historic Victorian building, the converted Peckham Fire Station and a contemporary garden space - South London Gallery is worth a visit for the architecture alone.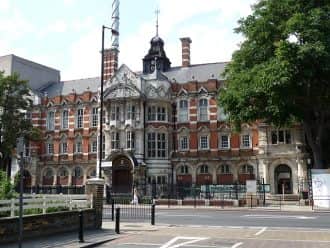 Exhibitions include historic and post-1970 contemporary artwork in permanent collections, along with revolving shows that span everything from graffiti to performance pieces. They also host free and paid events, talks, and creative art workshops where you can learn skills like screenprinting and natural dye methods.
3. THE MONTPELIER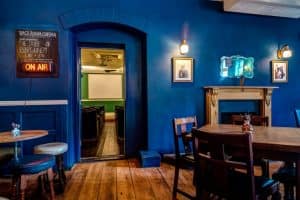 Indie cinema fans, rejoice. Squirrelled away in the back room of old-school boozer, The Montpelier nestles their teeny Back Room Cinema. You never quite know what you're going to get at this community-led indie cinema, but really that's part of the charm.
It's also always on the lookout for submissions, suggestions, or film clubs that want to host events there - so there's plenty of scope to get involved if you're so inclined. Aside from the plush, dark blue seats in the cinema, The Montpelier also fills seats as a pub - with great food, and live jazz on Sundays.
4. CLF ART CAFE
Contemporary exhibition and performance space by day, major dance venue by night - the CLF has got something for everyone. Set over several levels of the iconic Bussey building, this warehouse-esque space provides a unique backdrop for reimagined operas, classical recitals, music events, dance nights, and everything in between.
5. COPELAND PARK
Got an afternoon to kill? Hit up Peckham's cultural quarter, Copeland Park, for a collective of independent makers, designers, cafes and studios and see what takes your fancy.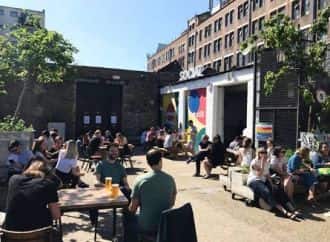 Maybe you're in the mood for a craft beer and a vegan lunch? Got it. If you want to get your sweat on, it's home to the first crossfit box in Peckham and fan favourite yoga studio, Yogarise.
There are also frequent mini-festivals and day events where you can find affordable art, rummage for vintage homewares at the Salvage Yard and swap records with other vinyl buffs.
Words by: Laura Sugden Clarke, Wellness Copywriter and Health Coach.
Get in touch with Laura via her website