City Academy Acting Tutor, Katie Sherrard looks at the stories and advice of some of the biggest names in acting today. Read on to see what acting tips you can take away for the audition room, maintaining your career and much more...
Acting can often feel like a confusing profession. Questions are constantly thrown up as to which path to take for your career. It can feel like you are on your own fighting for the next acting job or figuring out how to create a believable character. The important thing to remember is that every actor questions what they are doing at some stage in their career; even ones we assume have always been "successful". Below are quotes from some of the leading actors in the industry to give some handy tips for the future.
The Audition Room
The audition room can seem like the most daunting space. You really want that role and suddenly the pressure increases – how do you manage your nerves?
Academy Award winning actor, Jon Voight, explains how to turn an audition into a positive experience for yourself; "A friend of mine, Charles Durning, said, 'An audition is an opportunity to act,' and I feel that that is such a beautiful reminder. Doesn't make a difference who you're auditioning for; whatever it is, you have an audience and you have a role and you have the opportunity to perform that role the best you can for this audience. If you look at it like that, it doesn't make a difference if you get the part or not."
Kathy Bates may have won an Academy Award but that didn't mean she found auditions easy; "I was never good at auditions. Ever. Ever. I would study the script and try to get ideas and I guess finally, I don't know when it was, I just stopped trying too hard and I tried to be natural and that's when it got better."
Finally, comedy queen Amy Schumer explains the importance of showing confidence in the audition room and how it inspires confidence in the director to want to work with you; "The way I audition now, I just treat it like a rehearsal. I treat it like I already have the role and I'm just going to rehearsal."
What Happens if I Fail?
In every job it is natural for us to make mistakes and yet with acting if we don't land a role or if we are cast in a production but are struggling to find a character it can feel like a failure that can be hard to come back from. Acting requires a lot of inner strength and emotional resilience.
Lupita Nyong'o won an Academy Award for 12 Years a Slave and here she explains how it is important to make mistakes; "As actors, you become an expert at starting over. Every single role brings with it an ignorance and an insecurity, and so you have to approach it with the same curiosity and humility. I'm always nervous. Doesn't matter how many times I do this. But I remind myself it's because I care. Steve would say, 'Fail and then fail better!' And that environment was so liberating. It's not about getting it right. It's about getting it truthful."
For the times when you are feeling frustrated at a lack of auditions or if you are not cast in roles you want to be cast in, it is important to create your own opportunities. Tina Fey has found phenomenal success by making her own work and getting her voice heard; "If you're an actor and you don't get cast in stuff a lot, then put together a show or hold play-reading nights at your apartment. Make your own opportunities."
One of my favourite anecdotes about an actor bouncing back from a challenge in their career is Lisa Kudrow. She was initially cast as Roz in Frasier and was dropped from the show in favour of another actor. This could have seemed like the end of her career, but she picked herself up, found the confidence to audition for another show and within months she landed the role of Phoebe in Friends, which changed her life forever.
Maintaining a Career as an Actor
If you are starting out as an actor it's important to remember to work hard and know that it takes time to build your career.
Game of Thrones actor Emilia Clarke highlights the importance of managing expectations; "You can't come out of drama school and think, 'It's all going to be amazing.' You have to expect to work in a bar for at least five years and be a waitress for maybe two!"
OBE appointed Naomie Harris shows that in order to find the success you want you need to find the inner strength to push through challenges; "Actors need steely determination. It's a tough profession with plenty of knocks along the way. You have to be very determined and never take 'no' for an answer."
Will Smith has created a long lasting career and explains how it is important to be able to show your commitment to hard work to those you are working with. You need to show your professionalism in order for people to want to hire you; "If you're not willing to work hard, let someone else do it. I'd rather be with someone who does a horrible job, but gives 110% than with someone who does a good job and gives 60%."
Remember to Have Fun
Even though it can feel like hard work, the most important thing to remember if you want to be an actor is to have fun. Two great comic actors, Robin Williams and Amy Poehler show the importance of not taking yourself too seriously:
"You're only given a little spark of madness. Don't lose it." Robin Williams
"There's power in looking silly and not caring that you do." Amy Poehler
Embrace your silly, playful side and see where that creativity can take you.
Act for the Love of Acting
Finally, the late Philip Seymour Hoffman gives an excellent bit of advice to learn your craft and then do it for the love of it above all else;
"Study, find all the good teachers and study with them, get involved in acting to act, not to be famous or for the money. Do plays. It's not worth it if you are just in it for the money. You have to love it." Philip Seymour Hoffman
---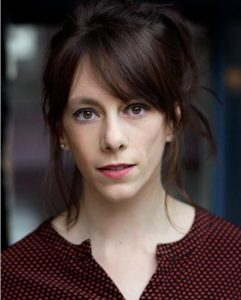 Katie Sherrard is a City Academy Acting tutor and has worked extensively in theatre all over the UK and in Germany.
City Academy runs acting classes in professional studios across London. Whether you are just starting out or you are a professional actor, we have course across all levels. See all acting courses here.
Acting for Beginners - Acting for Improvers - Advanced Acting
Screen Acting
Method Acting