The myriad benefits of practising Yoga are no secret – it's long been known as a fantastic way to stay in shape, both physically and mentally.
Having just launched a brand-new programme of Yoga Flow courses we wanted to offer further insight in what can be expected from these sessions, as well as gaining a tutor's approach from our instructor Winston Veerender…
In recent years the world of elite sport has increasingly woken up to the potential of Yoga as a training method, with high-profile stars such as Andy Murray, LeBron James, and the New Zealand rugby team, regularly incorporating Yoga sessions into their training regimes to help with strength, agility, flexibility, and posture. And as with these other intense sporting activities, it can bring great rewards for dance and other performing arts too.
Based on Ashtanga Vinyasa, our Yoga Flow course is designed to apply the principles of yoga specifically to dance and performing arts training. Beyond the obvious benefits of greater flexibility and strength which are so vital for dance, it also incorporates the principles of mindful movement and body alignment which are also fundamental aspects of the performance and rehearsal process across all dramatic arts.
---
Yoga Flow tutor and experienced Tango instructor Winston Veerender, said:
"Yoga has made a huge difference to the way I dance and teach Tango.
I was not trained as a dancer when I was a kid and picking up dancing as a grown-up meant I started Tango like any other office-going professional would.
Yoga transformed my experience of Tango by creating awareness of my movements – like creating freedom of movement in the upper body while being grounded, using the breath to make the movements more organic and lifting up through my centre to create elegant lines.
I feel so lucky to have discovered this connection between Yoga and dance and it gives me great pleasure to share this in my classes."
---
Each class focuses on building strength, flexibility, body awareness, good posture and mindful movement, especially keeping in mind the needs of aspiring dancers and performing arts students. Students learn about grounding, lengthening and using breath in movement.
Yoga Flow classes can be attended in 6-week courses or by attending one-off sessions. Find out more.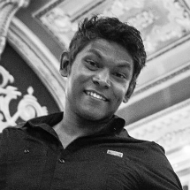 Find out more about Winston's Yoga Flow and Tango classes.