Here's our guide about what to wear to a ballet class. Everyone has a seen Ballerinas with their hair in a sharp bun, wearing pink tights and a tutu - but don't worry it's not necessary for a Ballet class - the most important thing about ballet clothes is that your ballet tutor can see your body and the lines it is making.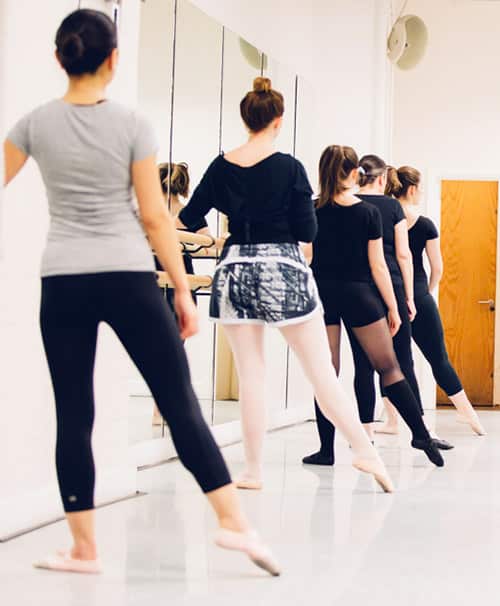 At the heart of Classical Ballet are clean lines of the body and shapes made by the limbs in space. In a ballet class the teacher will need to be able to see the lines of the body in order to help you find the correct posture and positions. It is also helpful for you to be able to see the shapes you are making.
You must also be comfortable and be able to move freely, so form fitting, breathable clothing is key. Layers are also important, so that as you become warmer throughout the class, you can shed them and begin to really feel and see the muscles of the body working.
If you have any old or current injuries, or areas of the body that are susceptible to strain, then extra areas of warmth, such as leg or ankle warmers are recommended.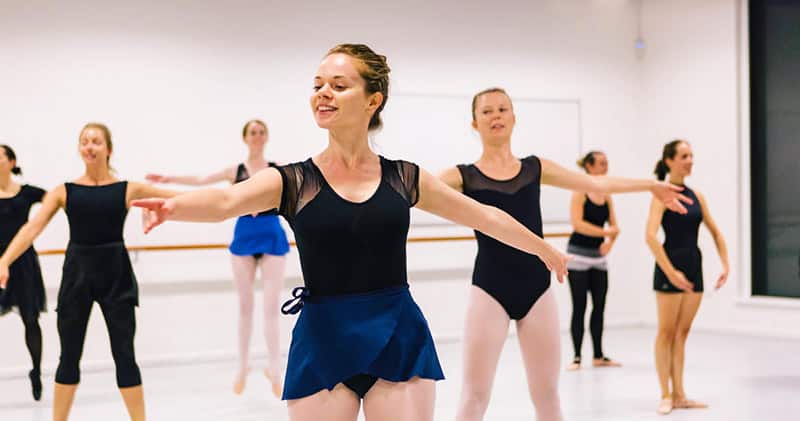 Ballet clothing we recommend
Dance brands have clothing with very flattering lines and are made of the perfect material for physical activity. However, yoga clothing is also suitable and Lululemon have recently teamed up with Royal Ballet Principal Ballerina Francesca Heyward to develop a line of clothing for ballet class and rehearsals.
The best place to purchase dancewear is actually in-store so that you can try things on and get the advice of the staff for suggestions and alternate choices. Here's our recommendation of companies for ballet clothing:
Caprezio has a broad selection of brands as well as their own
Bloch offers a more contemporary feel but only stocks Bloch clothing
Danzia also stocks multiple different brands for choice.
Ballet shoes
The correct footwear is also essential, but if you are new to ballet then socks are perfectly acceptable for the first few classes and can often be better in terms of being able to feel the floor and gain a connection to the ground. It can also help to build the muscles of the feet if there is less resistance.
Eventually though, ballet shoes will be necessary and will help you to develop strength. Selecting the right shoe should really be done in a dancewear store to ensure that they are fitted correctly.
Most of all, when it comes to what to wear to a ballet class, you should feel happy in what you are wearing so that you are not distracted by uncomfortable clothing or shoes that rub.
---
Hopefully our article helps you choose what to wear to a ballet class - if you have any further questions you can call our team on 0207 042 8883. City Academy run Ballet classes for all levels - beginners to advanced.