With lots of different styles of dance to choose from, we wanted to put a handy guide together to help you know what to wear for each class.
Ballet
Clothing - anything which is fairly tight fitting so your posture can be checked. Helpful if you can see your ankles so can check foot positioning. Good quality yoga clothing works well for ballet as the fabric is breathable. For more advanced levels, a unitard or all-in-one with leotard and tights can best show off your technique.
Shoes - soft ballet shoes for all levels of ballet classes. Can wear socks for the first few classes however need some grip to stop you from slipping (yoga socks are best).
Pointe shoes for pointe classes and ensure to get these fitted professionally (can book an appointment in most specialist dance shops).
See all ballet classes.
Contemporary
Clothes - loose fitting clothes, leggings are great. Anything you can move freely in. Layers are always good to keep your body warm.
Shoes - bare feet or contemporary half shoes or foot gloves (these help to protect the feet especially in more advanced classes).
See all contemporary classes.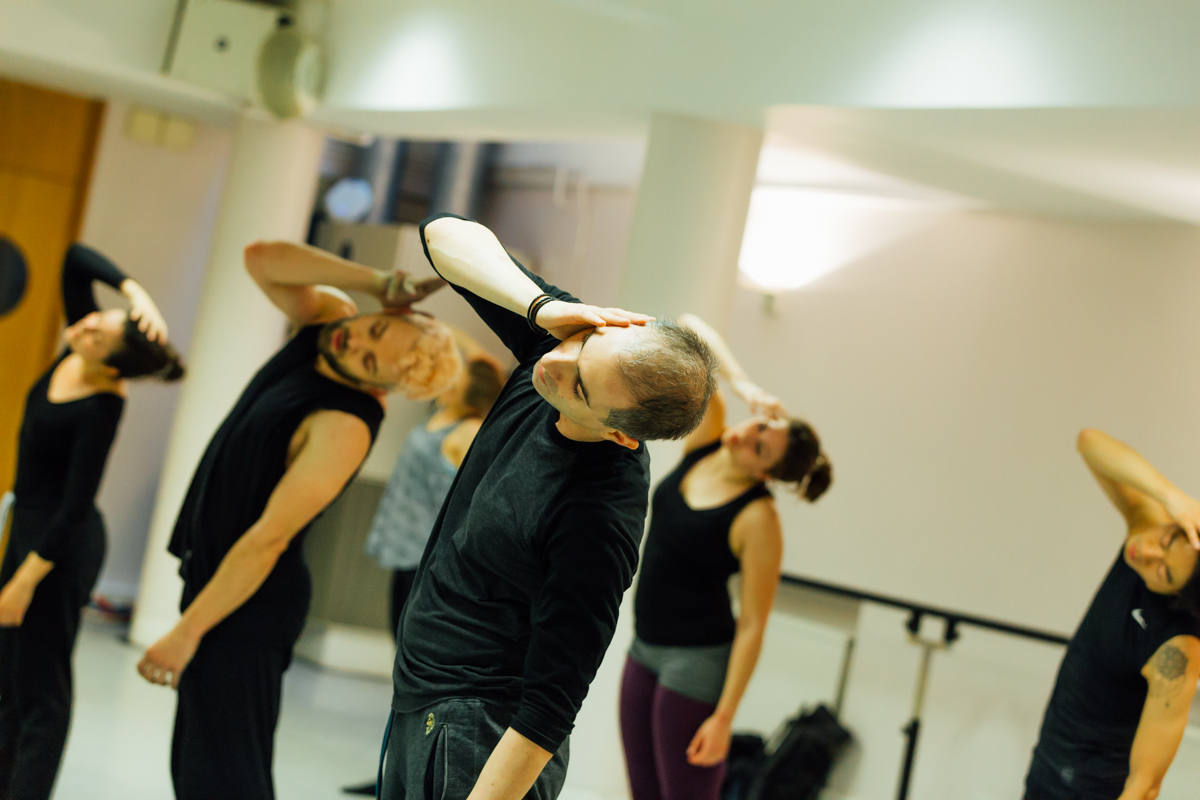 Jazz
Clothes - fairly tight fitting is best so you can easily see your posture. Leggings are good, anything you can move freely in.
Shoes - jazz shoes, jazz trainers or bare feet.
See all jazz dance classes.
Tap
Clothes - fitness wear or leisure clothes (skirts, dresses, jeans etc.) as most of the movement is from the knee down. However in more advanced levels best to wear something you can move freely in as there will be more full body movements including arms and turns.
Shoes - tap shoes, these can be any make or style whichever you feel most comfortable in. The better quality ones are usually a lot heavier so bear this in mind if you are new to tap.
Also think about heel height, you need to be able to do steps on your toes so if the heel is quite high, this will take more strength in your calf muscles to stay on your toes.
See all tap dance classes.
Street
Clothes - loose fitting including baggy trousers are a lot easier to dance certain moves in. Some steps you need to hold onto a loose fitting t-shirt or excess material on your trousers so the baggier the better!
Shoes - trainers, best ones are leisure trainers which do not have as much grip as sports trainers. Need to be able to move across the floor quickly and easily.
See all street dance classes.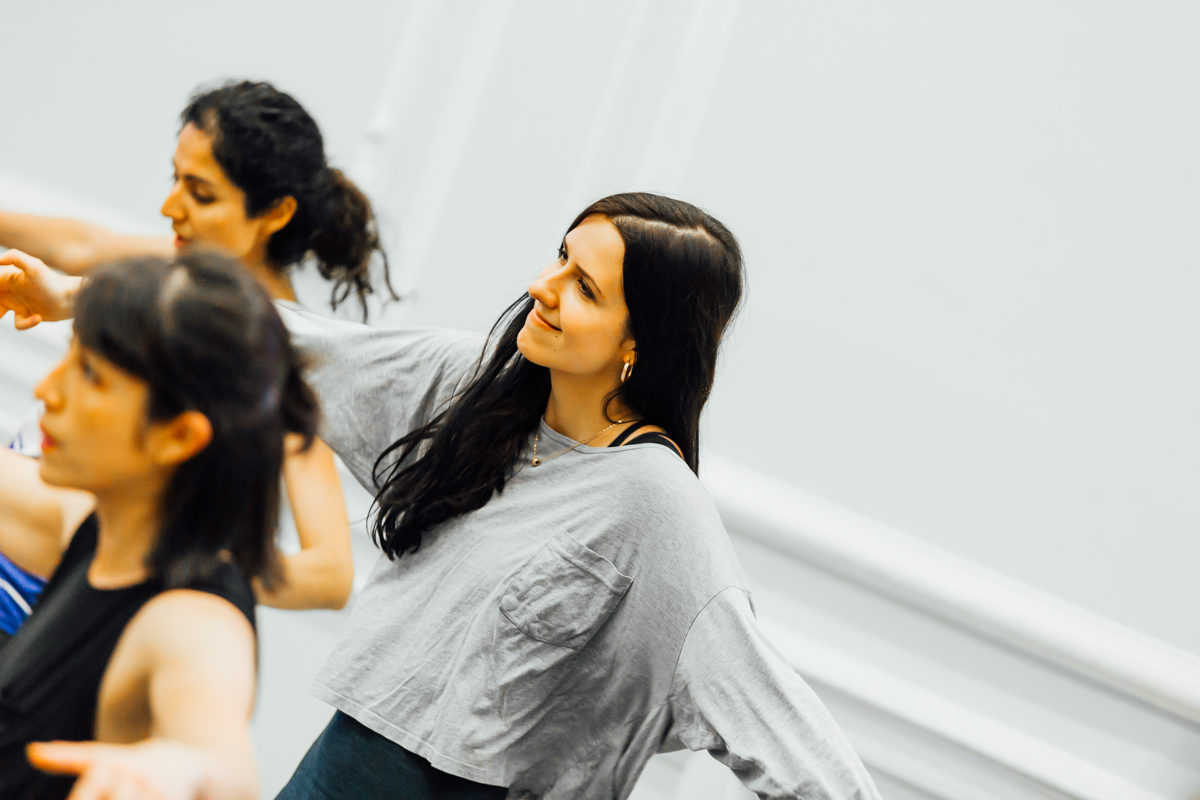 Diva/Burlesque
Clothes - tight fitting clothes are best so you can check your positioning although not essential. Any clothes you can move freely in such as leggings and t-shirt.
Shoes - bare feet or jazz shoes. Leisure trainers also work for diva, and spilt sole teaching shoes are great for burlesque.
In diva classes you will have the option of wearing heels, make sure you can at least walk in these! You can buy dance heels which are either termed character shoes or ballroom shoes. The best ones have suede on the sole giving you the grip to balance as well as allowing you to easily swivel for turns. These can be quite expensive so depending on budget you can just use some heels in your wardrobe.
See all diva and burlesque classes.
Bollywood
Clothes - anything you can freely move in, leggings and t-shirt is perfect. Hands need to be on show so you can do the intricate hand and arm movements.
Shoes - leisure trainers or bare feet.
See all bollywood classes.
Belly Dance
Clothes - tight fitting clothes are best so you can see the isolations of each body part. Showing your stomach is completely optional! A belly dance hip scarf is a nice accessory to enhance this style of dance.
Shoes - bare feet is best but if you would prefer to wear flat ballet pumps or socks with grip.
See all belly dance classes.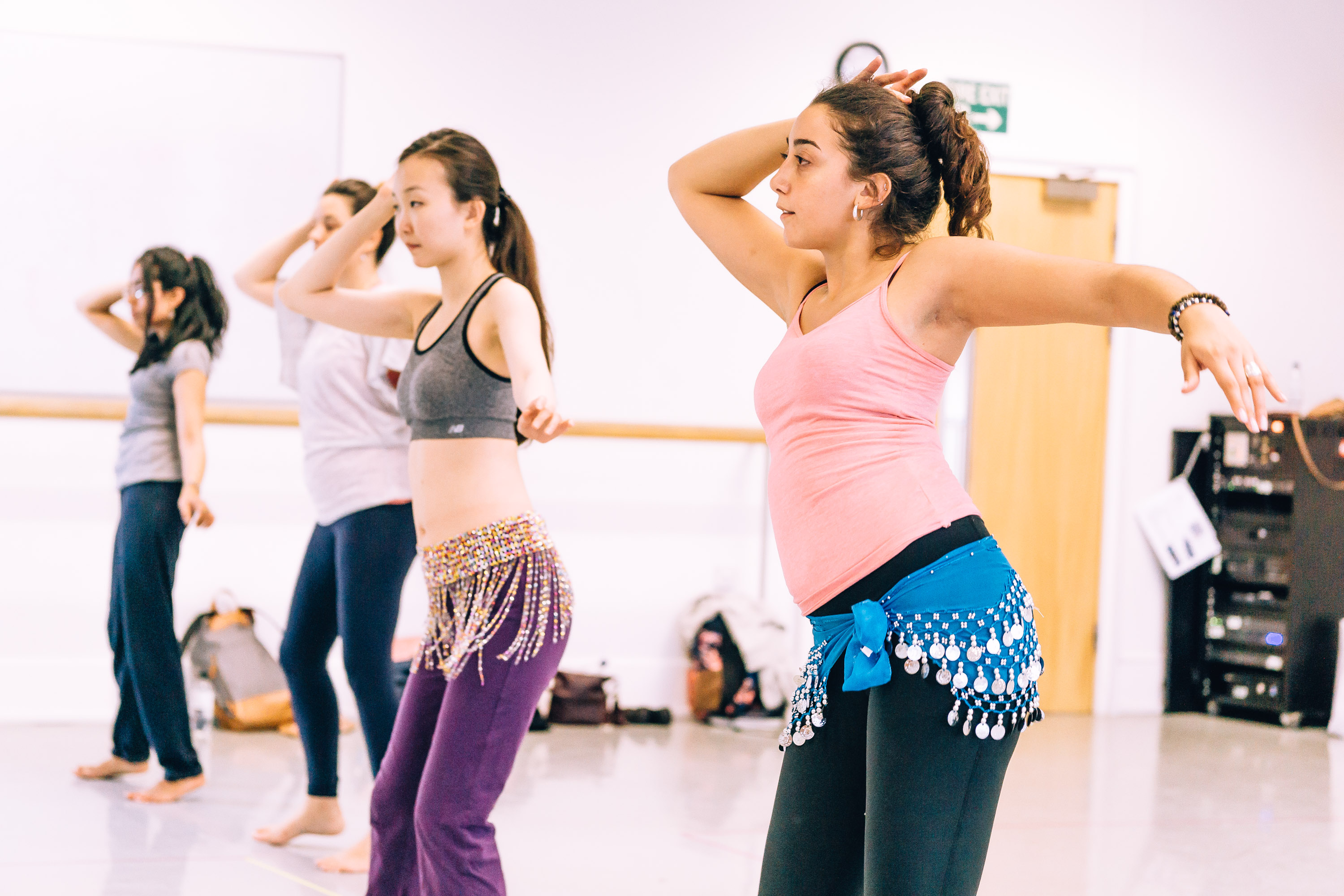 Flamenco
Clothes - anything you feel comfortable and can move in. A long full skirt is a nice touch for women and helps with the movements. A waistcoat is helpful for men to encourage correct arm movements.
Shoes - flamenco shoes are best but low block heeled shoes will also work well. Preferably closed toe shoes. Low cuban heel is perfect for men.
See all flamenco dance classes.
Partner Dances - Ballroom, Tango, Jive, Salsa
Clothes - anything you feel comfortable and can move in. Jeans are perfectly fine for these styles. Dresses, blouses or shirts work well for these styles but are not necessary.
Shoes - A heel is preferable for women although height is up to you! A flare style heel is best. You can purchase ballroom shoes which have suede on the sole to help with balance and turns.
For men, a flat shoe with smooth sole is easiest to move in. These can be casual shoes although dress shoes which lace up are best for these styles of dance. Best to avoid any shoes with rubber soles, such as trainers.
See all partner dance, ballroom, tango, jive, and salsa classes.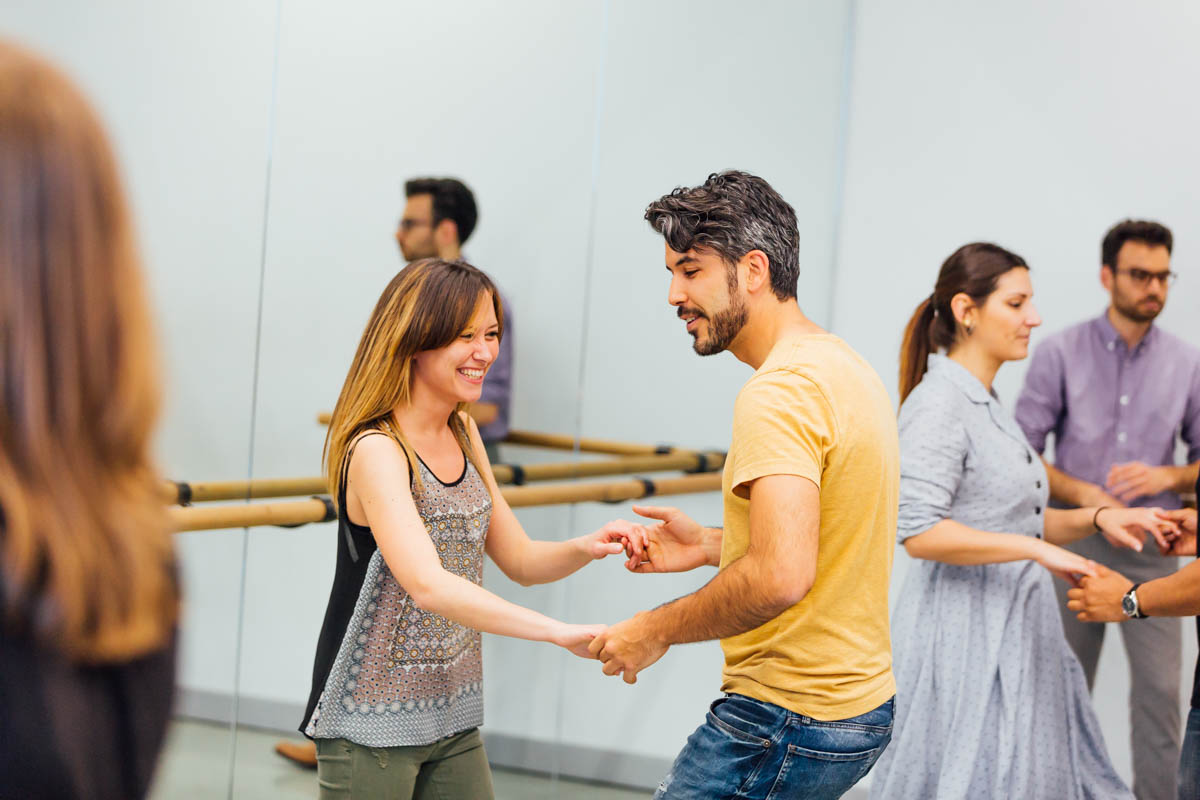 The most important thing to remember is to wear clothes which you feel comfortable in, this way you will feel more confident in whichever dance style you choose!