From fringe theatre to the West End, musicals have become a respected part of the theatre industry – giving equal importance to song and sound as they do to dialogue and movement. Advancing beyond the lighthearted song-and-dances and sentimental operettas of the early 20th century, today's Musical Theatre iterations represent a more wholesome integration of book and score, with many productions launched off-Broadway or in small independent venues before becoming smash hits.
For the visiting public, Musical Theatre offers everything from original material such as Urinetown and The Book of Mormon, to reinterpretations of films like The Lion King and Matilda, to biographical plays even, the likes of Evita or Spring Awakening. We ask our Musical Theatre community what the appeal is for them, as students, teachers, performers and fans of the genre.
---
Leah Evans
Teacher, and Musical Theatre Company member
I first started Musical Theatre at City Academy as a way to unwind from a particularly challenging class at the primary school I work at! I've sung all my life – I've Welsh blood so every family occasion was a musical one, and my grandmother was an opera singer, however I've never been great at standing up and singing in front of people, especially solo.
Now I do it on a weekly basis for my job, as I run the singing assembly in front of staff and 200 children – the experiences and feedback I had during my Course at City Academy has given me much greater confidence.
The Musical Theatre Company is my release. I tried choirs before but they weren't always fulfilling – Musical Theatre adds the extra dimension of having to act and dance – and the latter has been a big challenge for me as I'm not the most coordinated of people, but I've definitely noticed an improvement over the three years I've been doing this. I'm about to do my sixth performance and I've had two lead roles with the Tuesday Company. One as Mama Morton in a five day run of Chicago and one as Miss Jones in a summer production. I still hate singing solos but the encouragement you get from the cast and the creatives means that you end up thinking you can take on anything!
I love feeling part of a team and I have made friends for life through this – we spend a lot of free time together outside of Musical Theatre and my favourite part of being a member of the Company is actually the rehearsal time, rather than the end performance.
We even have T-shirts that say 'I Heart Tuesdays' because we love it so much – Musical Theatre at City Academy gives us 'normal' people a chance to work with West End artists and to perform at some of the best theatres and spaces in London. Even though I'd never do this professionally, I get to feel a small part of what it must be like to do this for real.
---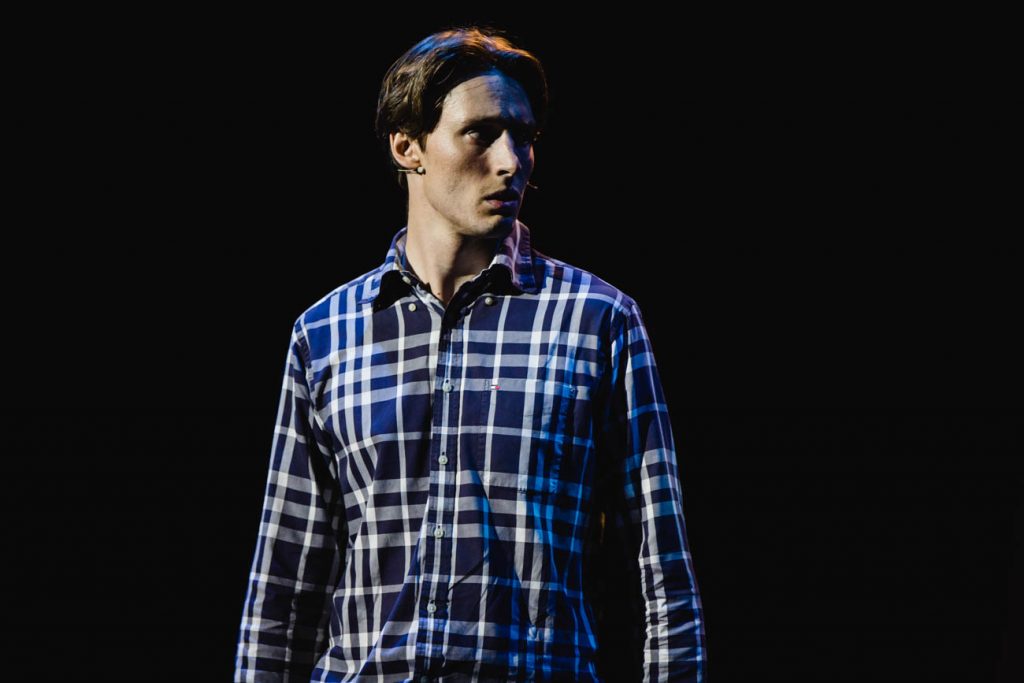 Justin Jeffreys
ITV Publicity Manager, and Musical Theatre Company member
I work in publicity for ITV, previously on The X Factor and now on The Voice UK. It is very fun and rewarding but involves a lot of hard work and the hours can be unpredictable, so doing Musical Theatre is not only a nice extracurricular distraction, it has also given me skills that have benefitted my career, particularly in terms of confidence, presentation and thinking creatively.
I love how Musical Theatre taps into every emotion – there really is a composition or a show to reflect any mood. When I left my last job I actually sang For Good from Wicked at my leaving do – the words pretty much encapsulated everything I felt.
It's very hard to remember what my life was like before City Academy came along. I've been Mark in RENT, Oscar in Sweet Charity, Buttons in Cinderella, Abanazar in Aladdin, Cliff in Cabaret, Schlomo in Fame and most recently the Dame in Sleeping Beauty, a role I would never have envisaged myself playing had you asked me when I joined the Company. I've lost count of all of the new friends that Musical Theatre has brought me across the last six years, but to put some perspective on it: I've attended a City Academy wedding, gone on holidays and spent New Years with friends made on the course, and barely a week goes by where I'm not off to the theatre, drinks or maybe even the odd late night karaoke session with someone from the group, past or present. It's never easy to say goodbye when members fly the nest, but from our international alumni I now have friends in New Zealand, California, Cambodia and France.
Over time, inevitably the faces in the Company have changed, but in many ways that's what keeps it fresh and keeps everyone ambitious and enthusiastic, as you never know who might come in and be competing with you for the role you really want to get. But the Company leaders make you aware of your own casting as a performer – having experienced the theatre industry firsthand, they have razor sharp instincts for what works and what doesn't. Now as I continue into my sixth year and 13th show, it's very fulfilling to look back on everything they've brought me. And it's even more fulfilling to look to the future.
---
Pippa O'Brien
Actress, teacher and director of the City Academy Musical Theatre Companies
In my late teens I discovered the film 'Cabaret' and that was it, I was hooked. Liza Minelli as Sally Bowles gives one of the finest Musical Theatre performances ever in my opinion- and not just mine, she won an oscar for it. It's still a bucket list role for me, but directing it for City Academy in 2014 is absolutely one of my proudest moments.
As a director, I often read a script and think "Dear god what can I bring to this that is original or worth putting in front of an audience"?! But then I get in a room with the cast and somehow they always manage to inspire me.
As long as you follow two rules – just tell the story, and trust the material (as long as it's well written) – then I think you can't go far wrong, especially if you are lucky enough to have a talented and creative cast.
It's a privilege to watch students discover their voices, and develop the skills with which to express what the piece demands. As a performer there is nothing quite so transporting as being part of a fantastic musical number, telling the story and singing with others – there is no greater buzz. There is a bit of a cliche that when something gets too intense to merely speak, sing instead! And trite as that sounds, it's true. Musical Theatre is a place where extremes are the norm, be it tragedy or comedy, it is the ultimate way to express emotions you wouldn't normally speak aloud. So dramatically, the range of tone and subject is endless, and musically, it can incorporate any genre or style. That's pretty special I think.
For the audience, it is absolutely an escapist art form, and always has been. The theatre traditionally flourishes in hard times; financial depressions, war time, even just a cold winter! Human beings naturally seek to be distracted from our personal reality and the theatre is the best place to find this distraction. Watching something on stage that gives us hope for something better, or shows us how things could be worse, or even just makes us laugh, is a great luxury and a special occasion for most people.
---
Ricky Hutchinson
Visual Merchandiser, Stock Manager and a member of the Musical Theatre Company
Stories are old as mankind itself, anyone can tell one, but to be able to tell a story combining acting, song and dance is not only magical, it also takes incredible creative talent from everyone involved. Reaching out and being memorable to an audience – that is so beautiful to watch!
Also, whether you're conveying a situation or a persona, performing to an audience is an act of providing knowledge, and that ability has real time application. Now I feel much more comfortable standing in front of a group of people and delivering information in my every day life, without the guise of a character to hide behind.
Musical Theatre was never a clear choice for me. I was part of the school choir and was always helping the drama department, but never thought of seriously trying to follow that further. I went through school thinking I would become a doctor, but then became interested in accountancy and marketing, studying them at university. I realised within a few months that I had made a terrible mistake, and took up computer programming and game design lessons. I even went so far as starting a professional wrestling course!
As performers, we're told all too often that there are thousands upon thousands of people in the industry, all of whom are fighting for a small number of roles. As true as that statement is, it's a huge dampener on the dreams and ambitions of even the toughest of individuals. When I finally went on to study acting at The Arts University College in Bournemouth, I never looked back, and I don't regret my choice. After seeing my first Musical (We Will Rock You), I just knew I had to throw everything I had into being on that stage.
When creativity is one of your key motivators personally, and there is very little requirement of it in your job role, it can leave you feeling unfulfilled. The Beginners group and I used to joke that our Musical Theatre lessons were the highlight of our week. It made the days at work a little more tolerable, knowing that we'd all be back in that room soon, just singing, dancing and acting. Most of that credit belongs to the tutors who lead the classes – they are unarguably all so talented and, possibly more importantly, just so friendly and reassuring that even if you mess up, you can laugh about it and try again.
---
Reshma Morris
Osteopath, and Musical Theatre student

What I've always loved about Musical Theatre is the telling of the stories and how they always relate back to something else, and that people feel confident to express themselves without feeling silly.
It has given me the chance to express myself – the public speaking skills I have gained have been invaluable and it has made me more confident with my patients. It has also helped me when teaching others.
All my little nieces and nephews have been inspired by me doing Musical Theatre later in life, and for me, that is the biggest reward. Being able to show them that they can do anything, at any age.
My favourite thing of all though, is just being allowed the privilege to sing and act with all these talented people, and being taught by amazing performers of the craft, who all have the patience and kindness to work with a complete beginner.
---
Discover Musical Theatre this Christmas, at City Academy's next show, the black comedy musical: Urinetown
With classes suitable for complete beginners to more intensive training, there's something for everyone. If you've already got experience and are looking for the opportunity to perform on stage, you can always check out our Musical Theatre Companies.