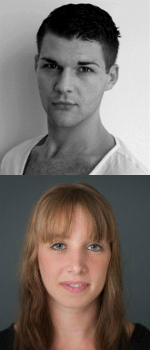 Andrew Race
Andrew graduated with a BA in Contemporary Dance and an MA in Dance Performance (Transitions Dance Company) from Trinity Laban. He is an independent performer, choreographer and teacher, as well as Artistic Director of ARDC (Andrew Race Dance Company).

Andrew has toured both nationally and internationally with dance companies, and choreographed projects for festivals under his own company. His teaching credits include delivering Contemporary technique at Trinity Laban to all levels across the Transitions Dance Company degree programme, Tring School Of Performing Arts, ZIVA YOUTH and more.   He is a member of Summit Dance Theatre, and has worked and performed for Stefanie Batten Bland, Dog Kennel Hill, Ikky Maas, Lea Anderson, Bawren Tavaziva, Kerry Nicholls, and Neville Campbell.


Holly Preece
Holly began her training at Trinity Laban Conservatoire of Music and Dance and went on to join Transitions Dance Company, graduating with an MA in Dance Performance.

Since then Holly has worked professionally with Daisy Farris Dance Collective, most recently on The Princess Alice Project as well as various projects with AKA Dance Theatre Company.

Currently Holly works as a dance tutor and choreographer across London.