City Academy offers adult Dance Classes and Lessons in an extensive range of styles and disciplines, across all levels of experience – so whether you're setting foot on the dance floor for the first time, have years of experience, or recently tried a new dance style at one of our Tasters, we'll have the right course for you.
Taking place at top venues across London we offer classes in: Absolute Beginners, Ballet, Ballroom, Belly Dance, Bollywood, Burlesque, Contemporary, Diva Dance, Flamenco, Jazz Dance, Jive Dance, Salsa, Street Dance, Swing Dance, Tango, Tap Dance and more.
If you are looking to pursue dance on professional level, book onto one of our Industry Courses for expert training to prepare you for the industry.
We also offer a more intensive dance training course, the Dance Foundation and the Dance Summer School, based at the world-famous Sadler's Wells Theatre. If you are looking to join our ongoing dance community, our Dance Companies rehearse weekly all year around.
DANCE WORKSHOPS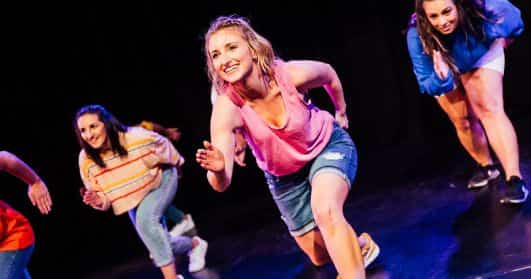 Learn inspiring routines and choreography in a range of different dance styles.